Malamander by Thomas Taylor – Book Review
Malamander by Thomas Taylor – Book Review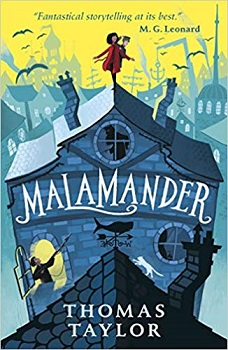 Malamander
The Legends of Eerie-on-Sea
Author – Thomas Taylor
Publisher – Walker Books
Pages – 304
Released – 2nd May 2019
ISBN-13 – 978-1406386288
Format – ebook, paperback, audio
Reviewer – Stacey
Rating – 5 Stars
I received a free copy of this book.
This post contains affiliate links.
Nobody visits Eerie-on-Sea in the winter. Especially not when darkness falls and the wind howls around Maw Rocks and the wreck of the battleship Leviathan, where even now some swear they have seen the unctuous Malamander creep…
Herbert Lemon, Lost-and-Founder at the Grand Nautilus Hotel, knows that returning lost things to their rightful owners is not easy – especially when the lost thing is not a thing at all, but a girl. No one knows what happened to Violet Parma's parents twelve years ago, and when she engages Herbie to help her find them, the pair discover that their disappearance might have something to do with the legendary sea-monster, the Malamander.
Eerie-on-Sea has always been a mysteriously chilling place, where strange stories seem to wash up. And it just got stranger…

Violet Parma stumbles through the window of the lost and found department at the Grand Nautilus Hotel in Eerie-On-Sea where Herbert Lemon is working. She tells Herbert he needs to hide her and fast. Soon afterward the manager of the hotel, Mr. Mollusc arrives with an old man who has a boat hook for a hand. He wants to know where Violet is, but Herbert tells them he hasn't seen any girl.
When the pair leave Herbert wants to know who Violet is and why she crashed into his lost and found department. She tells him she needs his help as she is lost. Her parents vanished twelve years ago leaving her in one of the rooms of the hotel. All that was left of them were their shoes on the harbour wall and she has come back to find them.
It is believed they went looking for the mysterious and legendary Malamander, a vicious sea monster that is said to swim in the sea and lay a magical egg that can make your wishes come true. What actually happened that fateful night, no-one knows.
Malamander is an exciting middle-grade/YA book that is filled to the brim with adventure. When I first began reading the book I thought that it was set back in time, somewhere around the Victorian era, it's only when Herbert mentions Pokemon cards that I suddenly realised that it was actually set in the present.
Each of the characters has been given a great name and they all are unique and bring so much to the plot from the not-quite-so-nice Mr. Eels, to Mrs. Hanniver who runs the Eerie Book Dispensary where you don't choose the books, they choose you via the help of the mechanical mermonkey.
The whole town has the perfect name as it is so eerie, the place is freezing and the mist is so thick most of the time you can't even see your own hand in front of your face, never mind a sea monster coming towards you!
I can see this book being a big hit this year as there is so much happening throughout and the plot and the characters are exceptionally enjoyable to spend your time with. It is also the first in a planned series so I now can't wait to see what adventures Violet and Herbert get up to in the next two books.
Book Reviewer – Stacey
---
Purchase online from:
---
About the Author

Thomas Taylor was born in Norfolk, England in 1973, but grew up in Wales. He attended Norwich Art School in 1991, before going on to specialise in illustration at Anglia University in Cambridge, graduating in 1995. After dabbling in Theatre design he decided to concentrate on children's books because he prefers the colours.
Since his first illustration job, the cover for Harry Potter and the Philosopher's Stone (Bloomsbury), Thomas has contributed to and illustrated dozens of books, plus written and illustrated four: George and Sophies Museum Adventure, Orchard; The Loudest Roar, OUP; The Biggest Splash – OUP; and The Noisiest Night, OUP.
Thomas has recently moved from Cambridge to Normandy, France where he lives happily with his beautiful wife Célia and his little son Max. He still illustrates stories for children and loves reading them to his boy.




---
What do you think of the book? Share your thoughts in the comment section below!
---
The above links are affiliate links. I receive a very small percentage from each item you purchase via these link, which is at no extra cost to you. If you are thinking about purchasing the book, please think about using one of the links. All money received goes back into the blog and helps to keep it running. Thank you.