Shades of Justice by Carolyn Arnold – Book Review
Shades of Justice by Carolyn Arnold – Book Review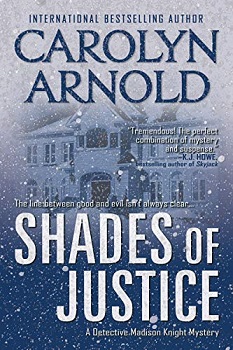 Shades of Justice
Detective Madison Knight Book Nine
Author – Carolyn Arnold
Publisher – Hibbert & Stiles
Pages – 434
Released – 7th May 2019
ISBN-13 – 978-1988353807
Format – ebook, paperback, hardcopy
Reviewer – Stacey
Rating – 4 Stars
I received a free copy of this book.
This post contains affiliate links.
Detective Madison Knight has risked her badge—and her life—in the pursuit of justice before, and she just might need to do so again. Two victims are found murdered and naked in the home of Steven Malone, who is the largest contributor to the Stiles PD. One victim is his wife. The other victim is a John Doe. This high-profile double homicide immediately pits Madison against her sergeant, who seems more intent on protecting the Malones' reputation and retaining a benefactor than catching a killer.
Madison will need to pull on her tenacity and courage if she's going to follow the evidence without prejudice. In the process, it becomes clear that finding justice isn't always black and white, and often the shades in between tell the fullest story—and it's not something she will forget anytime soon.

Detective Madison Knight is back in her nine book in her series. I have only read the previous book, number eight in the series, Power Struggle, but I enjoyed it immensely so I couldn't wait to start this book.
Shades of Justice opens with Madison meeting a private investigator as she believes that the police force has numerous corrupt officers and she wants to bring them to justice. We then move on to the case at hand.
At the home of the Malone's, a wealthy couple and one of the largest contributors to the police department the wife is found naked in the swimming pool, dead. She is not alone though, there is a mysterious man who is also naked and dead, with her. No-one seems to know who he is and the police are struggling to identify him. Because of the couple's connection to the police force, Madison's boss wants her and her partner to tread carefully and not rattle too many people, including the husband.
Madison only cares about getting to the truth though and solving the case, which doesn't go down well, especially as she seems to be coming up against obstacles that are surrounding the Malone family.
What I like about the Detective Madison Knight series is how the female lead is not only a tough, go-getting officer she is also a woman with a big heart. This is something we get to see throughout as we not only see her tackling the Malone's case, we also follow Madison as she is to be Maid of Honor at her best friends wedding, plus trying to take on the corrupt officers too, as well as her relationship with Troy which seems to be in a better place than in the last book. She also has a love for chocolate!
The plot unfolds nicely as the clues come to the forefront and the identity of the murderer is slowly revealed – Like putting a jigsaw puzzle together. The attention to detail comes across strong and you can tell how much research went into the book to make sure every aspect of the police procedure was as it is in real life.
I'm now intrigued as to where Ms. Arnold will take book ten as there are some aspects of this book that are never fully brought to a close and I can't wait to see what happens with them.
Book Reviewer – Stacey
---
Purchase online from:
---
About the Author

CAROLYN ARNOLD is an international bestselling and award-winning author, as well as a speaker, teacher, and inspirational mentor.
She has four continuing fiction series—Detective Madison Knight, Brandon Fisher FBI, McKinley Mysteries, and Matthew Connor Adventures—and has written nearly thirty books. Her genre diversity offers her readers everything from cozy to hard-boiled mysteries, and thrillers to action adventures.
Both her female detective and FBI profiler series have been praised by those in law enforcement as being accurate and entertaining, leading her to adopt the trademark: POLICE PROCEDURALS RESPECTED BY LAW ENFORCEMENT™.
Carolyn was born in a small town and enjoys spending time outdoors, but she also loves the lights of a big city. Grounded by her roots and lifted by her dreams, her overactive imagination insists that she tell her stories. Her intention is to touch the hearts of millions with her books, to entertain, inspire, and empower.
She currently lives just west of Toronto with her husband and beagle and is a member of Crime Writers of Canada and Sisters in Crime.






---
What do you think of the book? Share your thoughts in the comment section below!
---
The above links are affiliate links. I receive a very small percentage from each item you purchase via these link, which is at no extra cost to you. If you are thinking about purchasing the book, please think about using one of the links. All money received goes back into the blog and helps to keep it running. Thank you.