The Stranger Game by Peter Gadol – Book Review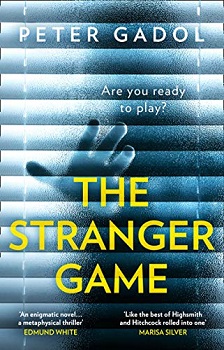 The Stranger Game
Author – Peter Gadol
Publisher – HQ
Pages – 304
Released – 5th September 2019
ISBN-13 – 978-1335005502
Format – ebook, paperback, audio
Review by – Stacey
Rating – 4 Stars
I received a free copy of this book.
This post contains affiliate links.
Rebecca's on-again, off-again boyfriend, Ezra, has gone missing, but when she notifies the police, they seem surprisingly unconcerned. They suspect he has been playing the "stranger game," a viral hit in which players start following others in real life, as they might otherwise do on social media. As the game spreads, however, the rules begin to change, play grows more intense and disappearances are reported across the country.
Curious about this popular new obsession, and hoping that she might be able to track down Ezra, Rebecca tries the game for herself. She also meets Carey, who is willing to take the game further than she imagined possible. As her relationship with Carey and involvement in the game deepen, she begins to uncover an unsettling subculture that has infiltrated the world around her. In playing the stranger game, what may lead her closer to finding Ezra may take her further and further from the life she once lived.
A thought-provoking, haunting novel, The Stranger Game unearths the connections, both imagined and real, that we build with the people around us in the physical and digital world, and where the boundaries blur between them.

The Stranger Game, a real-life social media game that comes with just three rules:
1 – Pick your subjects at random.
2 – No contact.
3 – Never follow the same subject twice!
Sounds easy and straight forward right? Wrong!
The Stranger Games is the fastest growing game in the country and people from all over are taking part. The police have been inundated with people going missing only for them to return a few days or weeks later after they have finished following their 'subject'.
Rebecca is concerned when her ex-boyfriend Ezra vanishes. He leaves behind his car, apartment and hasn't used his bank card. The police don't think she needs to be worried as they believe he is just another person playing The Stranger Game and he will return soon but Rebecca isn't quite so sure. Determined to find answers she sets out to try the game for herself but when she meets Carey things turn darker for the game as the rules change and Rebecca finds herself in deep.
I have mixed emotions about The Stranger Game. On one side I studied Sociology and I am interested in how different people deal with the same situation and different social norms. As a child, I was taught by my parents to look at a person's shoes as they tell you so much about them. I have also been known to be that woman in a cafe/restaurant who might take notice of people around me and what they are talking about etc.
However, that is as far as it would go. The game felt a little off and would make me feel completely uneasy if it happened in real life, yet I was compelled by the plot and wanted to know more to understand what the game was to achieve and how it could make us all more social and connected.
As I stated I have mixed emotions and that was down mainly to just a few things. Firstly, I was a little taken back to find that the story began partway through the plot and that Ezra had already gone missing. Secondly, I couldn't warm to Rebecca as much as I tried. I couldn't get a vibe from her and didn't understand why she felt the need to try the game even for Ezra, why not just investigate without getting involved? Lastly the ending. It just didn't seem to work for me.
That being said the book was a page-turner and if you have an interest in people and their actions and reasons then you will most likely love The Stranger Game. It moved along at a decent pace. It kept me eagerly awaiting for news on Ezra and I was hooked in by what could have happened to him. It is certainly a book that made me think and I read it in just two sittings.
Book Reviewer – Stacey
---
Purchase online from:
---
About the Author

Peter Gadol grew up in Westfield, New Jersey and was graduated from Harvard College in 1986. While at Harvard, he studied writing with Seamus Heaney, wrote a thesis on Wallace Stevens under the supervision of Helen Vendler, edited the literary magazine The Harvard Advocate, and was for two years a fiction intern at The Atlantic.
Gadol is the author of six books. HIs work has been translated into several languages, and his short fiction has appeared in Tin House, Story, Bloom, the Los Angeles Review of Books Quarterly Review, and StoryQuarterly. He has taught at the California Institute of the arts and, since 2005, at Otis College of Art and Design, where he is Chair of MFA Writing. He lives in Los Angeles.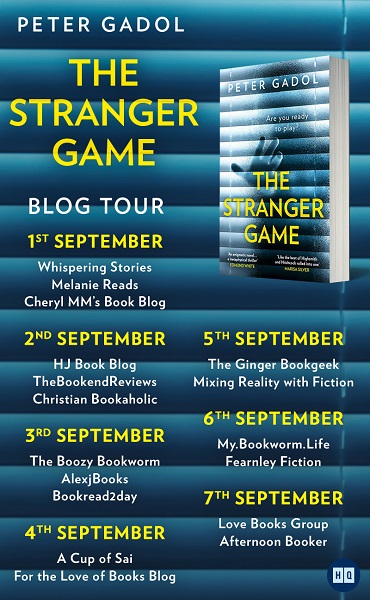 ---
Share your thoughts on The Stranger Game in the comment section below!
---
The above links are affiliate links. I receive a very small percentage from each item you purchase via these link, which is at no extra cost to you. If you are thinking about purchasing the book, please think about using one of the links. All money received goes back into the blog and helps to keep it running. Thank you.