Where to Find Me by Alba Arikha – Book Review
Where to Find Me by Alba Arikha – Book Review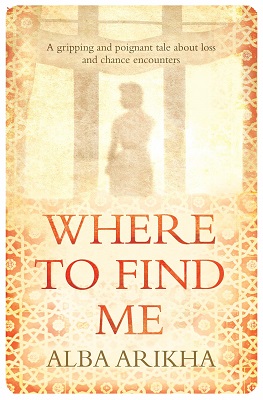 Where to Find Me
Author – Alba Arikha
Publisher – Alma Books
Pages – 288
Released – 20th September 2018
ISBN-13 – 978-1846884481
Format – ebook, paperback, hardcover
Review by – Stacey
Rating – 3 Stars
I received a free copy of this book.
This post contains affiliate links.


Hannah Karalis, a teenager living with her family in 1980s Notting Hill, becomes fascinated by her neighbour, Flora Dobbs, an enigmatic elderly woman who has clearly had an interesting past – but the improbable friendship that the two strike up is abruptly cut short by Flora's sudden departure from the neighbourhood. Eighteen years later, Hannah is astonished to receive a black notebook, which sets her on a quest to discover the truth and to confront the ghosts of an unresolved past.
A gripping and poignant tale of chance encounters, tangled lies and painful discoveries, Where to Find Me is an inspiring account of how to face and overcome the effects of loss and tragedy in our daily lives.

Jewish Flora Baum was a teenager when the Germans invaded her home town, Paris, France. She tried to get her parents to see reason and to flee but her father was a stubborn man who believed that they would leave their family alone as he knew important people, how wrong he was.
Her mother was taken first followed by her father whilst Flora hid in the basement of local friends and then out in the country with a family. When the war ended Flora decided to travel to Palestine to live. From there she fell in love with a man who was not all he first seemed. From there she returned to Paris and then onto London where she married a Pianist.
Move forward to the 1980s and teenage Hannah Karalis lives in Notting Hill, London with her family. She longs to be a writer and is taken with her elderly neighbour Flora, that is until Flora ups and leaves without a trace one night.
The book moves forward again in time, this time by nineteen years and Hannah is left a box of books by her old friend Flora, her memoirs. The books are very intriguing, especially as they contain information on Flora's remarkable life and details about Flora's past that she had tried to forget about for many, many years.
Where to Find Me was a mixed bag for me. The plot was interesting and I adored both Flora and Hannah. However, the writing wasn't to my liking. It was told in the first person, split into two sections and then again in two voices, Hannah's and Flora's. It moved back and forth in time and the sentences were very short so I never found there was any flow within the pages.
I did enjoy the historical element of the book which was realistic and informative. The later years were more about the intrigue of what Flora had written and how her words impacted on both of hers and Hannah's lives in different ways.
This was one of those books that I plodded through at a slow pace rather than rushed through. I was captivated enough by the story to want to finish the book but the writing style made it a hard slog rather than an enjoyable read.
Book Reviewer – Stacey
---
Purchase online from:
---
About the Author
Alba Arikha was born and raised in Paris, in an artistic household. Her father was the painter Avigdor Arikha, her mother is the poet Anne Atik. She studied the piano for many years before turning to writing. She completed her BA in comparative literature between the US and Paris, which also included a stint in film scoring, at the Ecole Normale de Musique.
She has written five books, and been translated into seven languages. Her first novel Muse, was published under the name Alba Branca by Macmillan in 1999, and completed after studying for an MFA at Columbia University. A collection of short stories, 'Walking on Ice,' (Pan books) followed, in 2000. Stories from that collection were published in Open City magazine. One of them, The Yellow Slippers, is part of the 2011 anthology 'Stories from 20 years of Open City.'
Various of her other stories and articles have appeared in Tatler magazine, Antique and New Art, the Journal of Art and the Indian Quarterly. Alba's translations have appeared in the New Republic and the Other Press. She was also involved in the translation of the French bestseller, 'Indignez vous!' by Stephane Hessel, published by Charles Glass books, and is a regular contributor to Spear's magazine.


---
What did you think of Where to Find Me? Share your thoughts in the comment section below!
---
The above links are affiliate links. I receive a very small percentage from each item you purchase via these link, which is at no extra cost to you. If you are thinking about purchasing the book, please think about using one of the links. All money received goes back into the blog and helps to keep it running. Thank you.
Like us on Facebook – Tweet us on Twitter – Pin us on Pinterest