The Detective by Ajay Chowdhury – Book Review
The Detective by Ajay Chowdhury – Book Review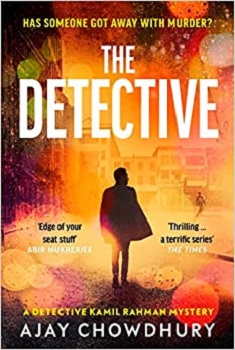 The Detective
Detective Kamil Rahman Book Three
Author – Ajay Chowdhury
Publisher – Harvill Secker
Release Date – 13th April 2023
Pages – 400
ISBN 13 – 978-1787303164
Format – ebook, paperback, hardcover, audio
Star Rating – 4
I received a free copy of this book.
This post contains affiliate links.

Synopsis
HAS SOMEONE GOT AWAY WITH MURDER?
On the verge of a four-billion-dollar deal, a tech entrepreneur from Shoreditch is found dead in a construction site, which leads to the discovery of three skeletons over a hundred years old.
But as fresh bodies turn up, can Detective Kamil – along with his friend Anjoli – prevent another murder?
Desperate to solve his first case for the Met, will Kamil put his reputation on the line… then cross it?
The Detective by Ajay Chowdhury is the third book in 'The Detective Kamil Rahman series' and the first book from the series that I have read. From what I understand DC Rahman used to be an officer in the Indian police force but events in book one, The Waiter, saw him booted out and so he moved to London and began waiting tables.
Since then a lot has changed for Kamil Rahman and he is now a Detective Constable for the Metropolitan Police Force. On his first day, he is called to attend a possible murder on a building site in which a CEO of a tech firm has been found shot dead. Unfortunately, this isn't the only body that is discovered on the building site.
The book was an easy read which I wasn't expecting if I'm honest given that it features the tech world and AI. It was also pretty easy to follow without having read the first two books in the series, however, for character development, I do believe this series would probably be better to be read in order.
The storyline mixes old with new as murders dating back over a hundred years are examined alongside new ones. I liked how the historical side of the story and the present were handled. They were well written and the opening to the book was spot on and certainly grabbed my attention.
Overall, DC Rahman is a strong character who uses his knowledge as a former officer in his new job but still has lots to learn and is sometimes rash with his processes and doesn't think things through fully. The author doesn't shy away from any subject area either whether that be the police, politics, culture, or racism. A decent police procedural novel but one I would advise starting at the beginning.
---
Purchase Online:
Ajay Chowdhury
Ajay Chowdhury is the inaugural winner of the Harvill Secker-Bloody Scotland crime fiction award. He is a tech entrepreneur and theatre director who was born in India and now lives in London where he builds digital businesses, cooks experimental dishes for his wife and daughters and writes through the night. His children's book, Ayesha and the Firefish, was published in 2016 and adapted into a musical.
The Waiter, published in 2021, is the first in his warm, funny and spicy adult crime series about Kamil Rahman, an ex-policeman from Calcutta who has moved to Brick Lane in London. It has been optioned for television by Moonage Pictures. Follow up, The Cook, was published in May 2022 to critical acclaim and deals with the issue of homelessness. The third book in the series – The Detective – is about government surveillance and was published in April 2023.
Author Links:
---
The above links are affiliate links. I receive a very small percentage from each item you purchase via these links, which is at no extra cost to you. If you are thinking about purchasing the book, please think about using one of the links. All money received goes back into the blog and helps to keep it running. Thank you.