Matilda Windsor Is Coming Home by Anne Goodwin – Book Review
Matilda Windsor Is Coming Home by Anne Goodwin – Book Review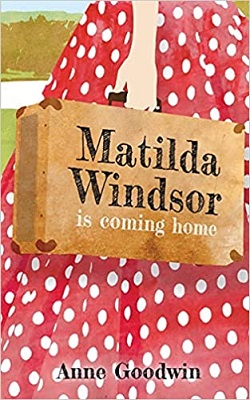 Matilda Windsor Is Coming Home
Author – Anne Goodwin
Publisher – Inspired Quill
Pages – 350
Released – 29th May 2021
ISBN-13 – 978-1913117054
Format – ebook, paperback
Rating – 4.5 Stars
I received a free copy of this book.
This post contains affiliate links.


Synopsis
In the dying days of the old asylums, three paths intersect.
Henry was only a boy when he waved goodbye to his glamorous grown-up sister; approaching sixty, his life is still on hold as he awaits her return.
As a high-society hostess renowned for her recitals, Matty's burden weighs heavily upon her, but she bears it with fortitude and grace.
Janice, a young social worker, wants to set the world to rights, but she needs to tackle challenges closer to home.
A brother and sister separated by decades of deceit. Will truth prevail over bigotry, or will the buried secret keep family apart?
I found Matilda Windsor an endearing heroine, and her story is told in a delightfully poignant yet humorous manner.
The book deals with the tricky issue of people with mental disabilities, and how best to enable them to live the best lives they possibly can in today's world whilst maintaining their dignity. The author is well qualified to write about this subject and show how attitudes have changed over the decades.
Our heroine is Matilda Windsor (Matty), or sometimes Matilda Osborne. She is also known as Tilly. She is sometimes all of these people at once, and at different times to different people.
Matilda's brother Henry (Hal) plays a large part in the story, as does Janice, who is thought of by Matty as "Circus Girl" for reasons which are obvious in the book. Their lives interlock as the drama plays out.
The story is told in flashback, in many short chapters. This method of writing worked very well for the plot.
Matty's story starts in the late 1920s when she is a young girl being brought up by just her mother. Matty believes her father died as a war hero, but that was not true. Her mother remarried George Windsor for economic reasons, hence Matty's future repetitions of "My mother married a prince." When Matty was just thirteen, her mother died during childbirth and the care of baby Hal falls to her.
Then, as sadly was often the case, Matty became pregnant and had to be hidden away and incarcerated as mentally incapacitated. The word of the father of her baby was always believed over hers, so she had no alternative life plan, though she had dreamt of becoming a doctor.
The story is triggered by the patients of the mental hospital being re-assessed for care in the community. Janice the care worker really comes to life here as a credible character. One can only sympathise with her breaking of professional rules if they contradict her sense of justice.
My only tiny gripe with the book was that I didn't care much for Matty's brother Hal or his lady friend Irene, but that is a very subjective comment.
All in all, I found Matilda Windsor Is Coming Home a very enjoyable and thought-provoking read.
Purchase Online From:
---
What did you think of 'Matilda Windsor Is Coming Home'? Share your thoughts in the comment section below!
---
The above links are affiliate links. I receive a very small percentage from each item you purchase via these links, which is at no extra cost to you. If you are thinking about purchasing the book, please think about using one of the links. All money received goes back into the blog and helps to keep it running. Thank you.
Like us on Facebook – Tweet us on Twitter – Pin us on Pinterest – Join us on Instagram