The Killer in the Snow by Alex Pine – Book Review
The Killer in the Snow by Alex Pine – Book Review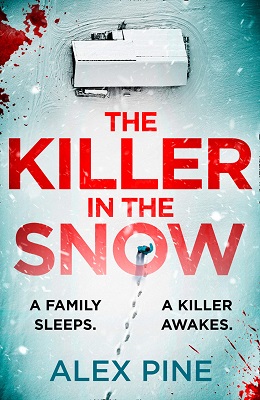 The Killer in the Snow
DI James Walker Book Two
Author – Alex Pine
Publisher – Avon
Pages – 400
Released – 28th October 2021
ISBN-13 – 978-0008453381
Format – ebook, paperback, audio
Rating – 5 Stars
I received a free copy of this book.
This post contains affiliate links.


Synopsis
The first fall of snow can be fatal…
A year has passed since DI James Walker cracked his biggest case yet, and he's hoping for peace and quiet this festive season.
But across the fells, a local farmer returns home on Christmas Eve to find footsteps in the fresh snow that lead down to his unused basement – and no footsteps leading away. Days later, his body is found, alongside those of his wife and daughter.
Without a neighbour for miles, there are no witnesses and little evidence. And the crime scene has strange echoes of another terrible murder committed at the farmhouse, twenty years earlier…
James knows that to catch this killer, he needs to solve a case that has long since gone cold…
DI James Walker was hoping for a quiet Christmas as last year was stressful hunting down a serial killer. Unfortunately, he's not that lucky.
Two days after Christmas he is called out to a possible murder/suicide at Oaktree Farm where the owners, the Batemans, have suffered gunshot wounds and their daughter has been stabbed, plus the daughter's boyfriend has gone missing.
The investigation is just getting underway when DI Walker is made aware of a similar murder/suicide at the farm twenty years ago, one in which the couples baby daughter went missing, presumed dead. Could the cases be linked?
I haven't read the first book, The Christmas Killer, but as this book worked as a standalone and I was intrigued enough by the plot that I decided to give it a read, though I never felt like I got to know DI James Walker fully or appreciated his character in the way I would have had I read the first book.
The book is set in Cumbria, a place where I'm not sure I want to visit anymore given by how many thriller/detective books are set there!! Joking aside, Cumbria with its vast open spaces, numerous forests and lakes, plus tiny villages make for a great place to set a thriller and I can see why so many authors do.
The plot felt fast and edgy, plus, the investigation had many leads to it, including a few red herrings. Given that I read a lot of thrillers I tend to have a good idea early on what has happened and by 38% of the way through the book I made my prediction which turned out to be near as damn right. This, however, didn't take away my enjoyment of the book as I then needed to see if I was right or what I had missed.
The Killer in the Snow kept me interested the whole way through. It had plenty of suspense and twists to keep you on your toes. It is dark and foreboding at times and I loved the snippets of info from twenty years ago and the first murder case at the farm and how DI Walker worked on the two cases to close them both.
Purchase Online From:
---
What did you think of 'The Killer in the Snow'? Share your thoughts in the comment section below!
---
The above links are affiliate links. I receive a very small percentage from each item you purchase via these links, which is at no extra cost to you. If you are thinking about purchasing the book, please think about using one of the links. All money received goes back into the blog and helps to keep it running. Thank you.
Like us on Facebook – Tweet us on Twitter – Pin us on Pinterest – Join us on Instagram