Broken Humanity By Karine Vivier – Book Review
Broken Humanity By Karine Vivier – Book Review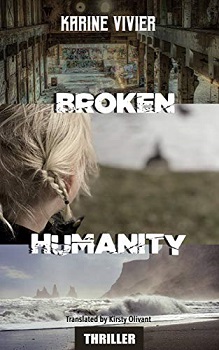 Broken Humanity
Author – Karine Vivier
Pages – 132
Released – 6th May 2019
ISBN-13 – 978-1547574810
Format – ebook, paperback
Reviewer – Kerstin
Rating – 4 Stars
I received a free copy of this book.
This post contains affiliate links.
Broken Humanity tells the story of three characters who, somewhere along the way, have lost touch with humanity in the eyes of society. Three characters, three parallel stories, a common thread. A debut thriller.

Broken Humanity is a short thriller about child trafficking, based in France. It is written from different points of views. There is Denis Papin, a convicted child molester, Andy, a kidnapper and his stepdaughter Alice, who helps Andy by luring their victims into his van. You also learn about the parents of Elaine, a young girl abducted by Alice and Andy a while ago and their coping with grief.
Due to the narration from different angles, you get great insights into the characters. Denis Papin is struggling with finding his place in society again after his release from jail. He takes on his mother's maiden name and moves into another city where nobody knows him or his past.
Elaine's mother makes herself responsible for the abduction of her daughter. If only she had taken her with her into the store and not had her left in the car alone. Everything would still be as good as it was. Now, her husband isn't talking to her anymore and the couple is facing a divorce. Yet, the only thing both needed is closeness to each other to overcome their grief.
After the death of Alice's father, her mother fell into a deep hole and the child had to take care of her. Until the day Andy, the mother's new boyfriend, came into their life. Alice never trusted him but somehow he led her into helping him with abducting children for his friend Raoul and his anonymous clients.
As you can see, there is a lot to take in with this story. Child trafficking is in itself a hard topic and the author forces you – although with great sensitivity – to face it. With the effect, that the insights into the minds of the kidnapper and his little helper leave you behind disturbed and sad. You can feel the grief of the parents after the loss of their child.
I read this book in one go because it was so gripping. It is a translation of the French original, yet it is a good and short read. The author has a talent for writing about such a delicate and albeit current topic in a way which makes you want to read even more about it. The plot is great and fast to read due to short chapters, changing the POV with every new one.
I recommend this thriller and am looking forward to reading other books from Karine Vivier.
Book Reviewer – Kerstin
---
Purchase online from:
---
What did you think of the book? Share your thoughts in the comment section below!
---
The above links are affiliate links. I receive a very small percentage from each item you purchase via these link, which is at no extra cost to you. If you are thinking about purchasing the book, please think about using one of the links. All money received goes back into the blog and helps to keep it running. Thank you.