I Do Not Like Books Anymore! by Daisy Hirst – Book Review
I Do Not Like Books Anymore! by Daisy Hirst – Book Review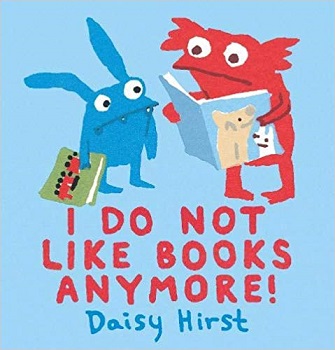 I Do Not Like Books Anymore!
Natalie and Alphonse Book Two
Author – Daisy Hirst
Publisher – Walker Books
Pages – 40
Released – 6th June 2019
ISBN-13 – 978-1406382914
Format – paperback, hardcover
Reviewer – Stacey
Rating – 4 Stars
I received a free copy of this book.
This post contains affiliate links.
In the second title featuring favourite monster siblings, Natalie and Alphonse, Natalie is learning to read. "Now I can read all the stories in the world," she says. "And you can read them to me!" adds little brother Alphonse. But when Natalie tries to read all by herself for the first time, the letters look like squiggles, and she isn't so sure any more…
With her unique humour and bold, brilliant art, Daisy Hirst celebrates the joy of sharing stories, and perfectly evokes those feelings of frustration and pride that come with learning something new.

I Do Not Like Books Anymore! is the second book in the Natalie and Alphonse series by Daisy Hirst, the first book Alphonse, That Is Not OK to Do!, I reviewed back in 2017.
In this book, Natalie is learning how to read. She adores the stories that her Mum, Dad, and even her Granny read to her but when it comes to learning to read her own book the words are all jumbled and the story is boring as nothing happens. She decides she doesn't like books reading anymore.
Alphonse wants her to read to him so she makes up her own story and he loves it so much he tells Natalie she should write it down and they will draw pictures to go with it and make their own reading book.
I can understand Natalie's issues with her first reading book as many new books for readers are more concerned about trying to get children to sound out the words than giving them a story they want to read and one they want to try over and over again with until they get it right.
The book also shows how hard it can be when you start learning to read and that it takes time and plenty of practice to get there.
The story is enjoyable and I'm sure lots of little children will be able to understand Natalie's frustrations which will give them a connection to the book.
The illustrations are fun to look at and full-page too. This is a book that I'm sure will start conversations about learning to read and will make a great book to have as a class read as well as at home.
Book Reviewer – Stacey
---
Purchase online from:
---
About the Author
Hello, I'm from London and I live in Cambridge. My first four books, The Girl with the Parrot on her Head, ALPHONSE, THAT IS NOT OK TO DO! Hilda and the Runaway Baby and I DO NOT LIKE BOOKS ANYMORE! (a second adventure for Natalie and Alphonse) are published by Walker Books in the UK and Candlewick in America.
I have a MA in Children's Book Illustration from Cambridge School of Art and a BA in English and Creative Writing from Warwick.




---
What did you think of the book? Share your thoughts in the comment section below!
---
The above links are affiliate links. I receive a very small percentage from each item you purchase via these link, which is at no extra cost to you. If you are thinking about purchasing the book, please think about using one of the links. All money received goes back into the blog and helps to keep it running. Thank you.