Alphonse, That Is Not OK to Do! by Daisy Hirst – Book Review
Alphonse, That Is Not OK to Do! by Daisy Hirst – Book Review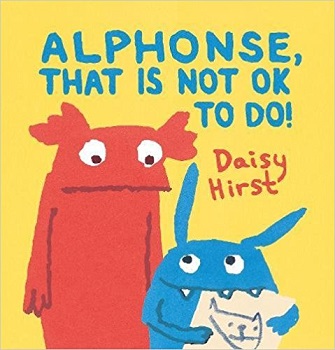 Alphonse, That Is Not OK to Do!


Natalie and Alphonse Book One
Author – Daisy Hirst
Publisher – Walker Books
Pages – 40
Release Date – 2nd March 2017
ISBN-13 – 978-1406373134
Format – paperback, hardcover
Reviewer – Stacey
I received a free copy of this book
Post Contains Affiliate Links

From the creator of The Girl with the Parrot on Her Head comes a truly authentic and original story about sibling rivalry. Natalie the monster mostly loves her little brother Alphonse being there – they name the pigeons, bounce things off the bunk beds, have stories in the chair and make lots of fun stuff together. But, when Natalie catches Alphonse eating her most favourite book, well, that is not OK!
Daisy's expressive, bold screen-print illustration and unique picture book voice will enchant and charm all readers.

Once there were two little monsters, Natalie and her baby brother Alphonse. Natalie didn't mind her brother playing with her, well, most of the time, they would draw together, bounce toys of their bunk beds together, but sometimes Alphonse could be naughty and ruin Natalie's things.
One day Natalie saw Alphonse under her bed. He was eating her book. Natalie became very angry and shouted at him. Alphonse tried to say sorry, but Natalie didn't want to hear it.
To try and make amends, Alphonse wanted to get the sticky tape so that he could mend the book, but it was up high. Instead, he made a lot of noise and mess, and nearly hurt himself. Natalie stopped being mad at him as she realised how sorry he was, and that he was only a little monster.
This brightly coloured paperback book, will have kids eager to read it. It has eye catching colours and illustrations that contain lots of detail. The story of a brother and sister playing together and getting along, until one of them does something to upset the other, occurs in most households with two or more children.
The book will be enjoyable to both children and parents, and I can see this being a story that children ask to be read to them, over and over again. The vocabulary range with its large font, and small sentences makes it easy for those that are learning to read to understand.
Alphonse, That Is Not OK to Do! is a great book that I'm sure will have you discussing why the two monsters fell out. It would also work equally as well as a class read too.
Book Reviewer – Stacey
Purchase Links


Hello, I'm from London and I live in Herefordshire. My first two books, The Girl with the Parrot on her Head and ALPHONSE, THAT IS NOT OK TO DO! were published in 2015 and 2016 by Walker Books; Hilda and the Runaway Baby followed in February 2017.
I have a MA in Children's Book Illustration from Cambridge School of Art and a BA in English and Creative Writing from Warwick. Did you know I made a boat?
Author Links