Flat Stanley by Jeff Brown – Book Review
Flat Stanley by Jeff Brown – Book Review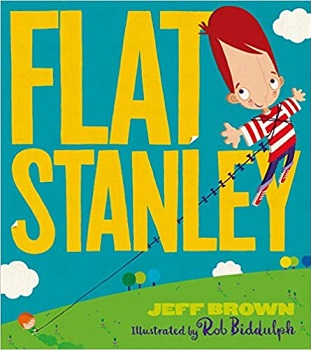 Flat Stanley
Author – Jeff Brown
Illustrator – Rob Biddulph
Publisher – Egmont
Pages – 32
Released – 30th May 2019
ISBN-13 – 978-1405291552
Format – paperback
Reviewer – Stacey
Rating – 4 Stars
I received a free copy of this book.
This post contains affiliate links.
Amazing things always happen to Stanley!
Stanley was just an ordinary boy, until a pin board fell on top of him . . .
Now he's flat as a pancake! Sometimes being flat can be lots of fun – he can even fly like a kite!
But it's not all fun and games . . . The sneak thieves are in the town and plotting to steal the world's most expensive painting! Can Flat Stanley save the day?
Jeff Brown's world-famous character continues to charm over 50 years on from publication. With shortened adapted text, this 32 page picture book is great for sharing with children aged 3 years and up and will introduce Stanley's adventures to a whole new generation of children. Rob Biddulph's bold and graphic illustrations reimagine the characters and their world in a fresh and engaging new way – perfect for fans new and old.

I remember reading Flat Stanley as a child, I think it was part of a class read at primary school if I'm remembering correctly – It was a long time ago! This book actually isn't anything like the story I remember because it has been written for younger children from 3 years onward so that they can enjoy the story of Flat Stanley too.
After a pinboard falls on Stanley he is flattened to just 1/2 an inch thick. His parents take him to the doctor who tells them he is fine. Stanley decides he can have lots of fun being this flat and so he allows his brother Arthur to use him like a kite.
However, when the local art museum is robbed Stanley is used to hide as a painting and alert the authorities if the thieves return. Though it isn't all fun being so thin, as Stanley soon learns that some people can be cruel about how he now looks.
This new version of Flat Stanley for younger children is just adorable. It is bright and colourful and the story plays out in the pictures as well as in the writing, meaning that this is the perfect book for those learning to read.
I can see little children giggling along with Stanley and his brother, especially when Stanley is flying high, or stuck in a tree.
Flat Stanley is a story that has been around for generations and it is wonderful to see that a book for younger readers has been created. It really is a great introduction to the world of Flat Stanley. I can imagine little ones reading this book with a parent or guardian or even at school and then as they get slightly older wanting to read the 'bigger' books too.
Book Reviewer – Stacey
---
Purchase online from:
---
About the Author
Jeff Brown was a story editor and assistant film producer in Hollywood. He worked on at The New Yorker and the Saturday Evening Post, and his stories appeared in these magazines and many others. Jeff created the classic character Flat Stanley, whose adventures have been beloved by children around the world for more than 50 years.

---
What did you think of the book? Share your thoughts in the comment section below!
---
The above links are affiliate links. I receive a very small percentage from each item you purchase via these link, which is at no extra cost to you. If you are thinking about purchasing the book, please think about using one of the links. All money received goes back into the blog and helps to keep it running. Thank you.