Grow, Tree, Grow by Dom Conlon – Book Review
Grow, Tree, Grow by Dom Conlon – Book Review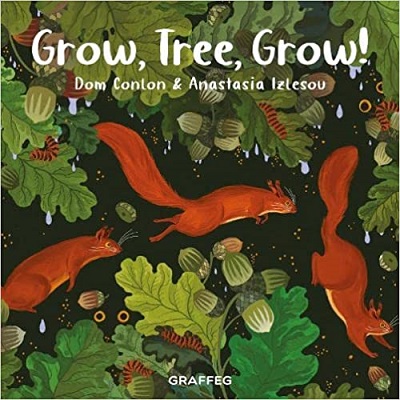 Grow, Tree, Grow
Author – Dom Conlon
Illustrator – Anastasia Izlesou
Publisher – Graffeg Limited
Release Date – 5th July 2022
Pages – 36
ISBN 13 – 978-1802580761
Format – ebook, paperback
Star Rating – 3.5
I received a free copy of this book.
This post contains affiliate links.

Synopsis
Meet Oak, growing taller each year as he becomes a home for a hundred different species of insect and plants and, inch-by-inch, finds his place in a rich forest of trees.
Complete with a list of fascinating facts about different species of tree, this charming poetic picture book combines fiction and non-fiction to make a perfect educational resource for children whether at home or in the classroom.
Grow, Tree, Grow is a children's picture book about the life of an oak tree. Starting as a young seedling the oak tree goes through many changes over the years and has to endure nearly being eaten, etc by the animals who live in the woods.
Towards the end of the book, it looks at deforestation and what happens to the oak tree when it is chopped down to make way for new homes.
I love a book that educates, and while it does just that, it does it in a way that I am not sure the young readers will understand. The words are more in keeping with what you might find in a GCSE English Lit class not a story aimed at 3-5-year-olds, they are very poetic. Though the factual information at the back of the book is a brilliant idea.
The story is adorned with beautiful, full-page illustrations that are pretty dark in colour, just like the cover. It made the book feel very atmospheric.
Overall, a sweet book about the life of a tree but an adult may have to explain the journey along the way.
---
Purchase Online:
Dom Conlon

Dom Conlon is a poet whose work has been praised by Chris Riddell, Brian Bilston, A F Harrold, Nicola Davies, George Szirtes and many more.
Whilst primarily a writer for children, Dom's poetry reaches across all ages as he explores the natural world in search of the moments of connection experienced by all living things. From the Moon in his book This Rock That Rock, to the world of hares in Leap, Hare, Leap, Dom brings a quiet poetry and gentle humour to every subject he tackles.
Author Links:
---
The above links are affiliate links. I receive a very small percentage from each item you purchase via these links, which is at no extra cost to you. If you are thinking about purchasing the book, please think about using one of the links. All money received goes back into the blog and helps to keep it running. Thank you.