Diary of an Adorable Fat Girl by Bernice Bloom – Book Review
Diary of an Adorable Fat Girl by Bernice Bloom – Book Review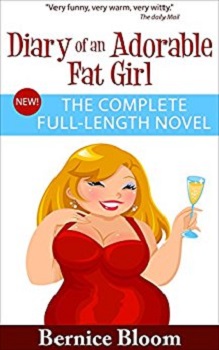 Diary of an Adorable Fat Girl
Author – Bernice Bloom
Pages – 206
Released – 16th May 2017
Format – ebook
Reviewer – Stacey
Rating – 4 Stars
I received a free copy of this book
Post contains affiliate links
Mary Brown is funny, gorgeous and bonkers. She's also about six stone overweight. When she realises she can't cross her legs, has trouble bending over to tie her shoelaces without wheezing like an elderly chain-smoker, and discovers that even her hands and feet look fat, it's time to take action. But what action? She's tried every diet under the sun.
This is the hysterical story of what happens when Mary joins 'Fat Club' where she meets a cast of funny characters and one particular man who catches her eye.
The story is laugh-out-loud funny and will resonate with anyone who has dieted, tried to keep up with any sort of exercise programme or spent 10 minutes in a changing room trying to extricate herself from a way too-small garment that she ambitiously tried on and is now completely stuck in.
Bernice Bloom is the big, new name in comedy writing…this is the first full-length novel after her series of laugh-out-loud mini books.

Diary of an Adorable Fat Girl, Adventures of an Adorable Fat Girl, and Crazy Life of An Adorable Fat Girl are three short stories which have been put together to make Bernice Bloom's new full-length novel featuring the wonderful heroine, Mary Brown.
Mary is bright, charming and full of fun. She has decided that she has reached the point where it's time to lose some weight after realising she can no longer cross her legs. Travelling across town to join 'Fat Club', (so no-one local to her knows she is attending). Mary joins the group as they find out why they each over-eat.
Fat Club isn't a diet club though. There is no standing on the scales and going through what you have eaten, it is more to do with the psychological reason for being overweight, though Mary is keeping her reason close to her chest.
Throughout the book you get to have so much fun and laughter with Mary and her new friends. It's not all plain sailing though, there are some low points as well as the highs.
Reading why Bernice Bloom created the character Mary Brown, "Because there are so few overweight heroines in literature", made me think back to all the books that I have read. I actually can't off the top of my head think of more than two books that I've read featuring an overweight character. In the UK where the average size is 16, that is quite sad.
A lot of what Bernice Bloom has written will certainly be understood by those that are carrying a bit of extra weight. I found myself nodding along, with 'I know that one', as I was reading about Mary and her weight.
Diary of an Adorable Fat Girl is a refreshing look at the world through the eyes of an overweight woman that had me laughing-out-loud and grinning like a Cheshire Cat.
Reviewed by Stacey
---
Purchase online from:
---
About the Author
Hello, my name is Bernice Bloom and I am a writer (I write light-hearted rom-com style novels and also work as a magazine journalist and advertising copywriter) and jewellery designer.
My recent series of novels is called 'Adorable Fat Girl' and it features a heavily overweight woman called Mary Brown. She is bright, funny, friendly and bonkers. She's also fat. The books blend the comedy of her efforts to lose weight with a more serious backstory about what happened to her in the past that had led to the issues that make her prone to over-eating.
I'm fascinated that there are so few overweight heroines in literature. Women can be manipulative, evil, even murderers in fiction, but not fat! Certainly not fat and beautiful with loads of friends! Then along came Mary and she's developed quite a fan base of people who love the fact that the heroine is large. She gets lots of letters and I have ended up taking her on lots of adventures!




---