Summary Justice by John Fairfax – Book Review
Summary Justice by John Fairfax – Book Review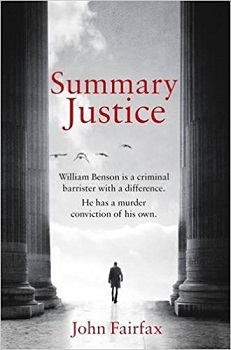 Summary Justice


Benson and De Vere Book One
Author – John Fairfax
Publisher – Little, Brown
Pages – 304
Release Date – 2nd March 2017
ISBN-13 – 978-1408708729
Format – ebook, paperback, hardcover, audio
Reviewer – Stacey
I received a free copy of this book
Post Contains Affiliate Links

The last time Tess de Vere saw William Benson she was a law student on work experience. He was a twenty-one year old, led from the dock of the Old Bailey to begin a life sentence for murder. He'd said he was innocent. She'd believed him.
Sixteen years later Tess overhears a couple of hacks mocking a newcomer to the London Bar, a no-hoper with a murder conviction, running his own show from an old fishmonger's in Spitalfields. That night she walks back into Benson's life. The price of his rehabilitation – and access to the Bar – is an admission of guilt to the killing of Paul Harbeton, whose family have vowed revenge. He's an outcast. The government wants to shut him down and no solicitor will instruct him. But he's subsidised by a mystery benefactor and a desperate woman has turned to him for help: Sarah Collingstone, mother of a child with special needs, accused of slaying her wealthy lover.
It's a hopeless case and the murder trial, Benson's first, starts in four days. The evidence is overwhelming but like Benson long ago, she swears she's innocent. Tess joins the defence team, determined to help Benson survive. But as Benson follows the twists and turns in the courtroom, Tess embarks upon a secret investigation of her own, determined to uncover the truth behind the death of Paul Harbeton on a lonely night in Soho.
True to life, fast-paced and absolutely compelling, Summary Justice introduces a new series of courtroom dramas featuring two maverick lawyers driven to fight injustice at any cost.

1999, William Benson is in court, charged with the murder of Paul Harberton. Whilst protesting his innocence, Benson admits to killing Haberton, and gets life imprisonment. The reason for his change of plea, he wants to become a lawyer and the only way is by admitting to a crime he states he didn't commit.
Sixteen years later, Benson is out of prison and the lead defence in the trial of Mr Justice Kenneth Oakshott, R v Collingstone. Sarah Collingstone, single parent to Daniel, her disabled son, is up on a murder charge in the killing of her boss Andrew Bealing. She protests her innocence and Benson believes her. It's his first big case and he is determined to win, to prove to the public who want him shut down that he can be a damn fine lawyer no matter what happened in his part.
Tess De Vere was a junior on Benson's case in 1999, she believed he was innocent, and felt some kind of connection to him. Warned to stay away from him, sixteen years later Tess debuffs the warning and offers to help Benson as part of his defence team.
Is Sarah guilty? Can the defence team prove her innocence? Can Tess get rid of this unnerving feeling that she may of been wrong about Benson all those years ago?
Summary Justice is an outstanding fictional piece of work by John Fairfax. Before John became a novelist, he was a barrister, and you can certainly tell in his accuracy of his work.
Having sat on a jury panel more than once, I know the way a courtroom works. At times it felt like I was back there listening to the evidence. Watching as the defence and prosecution team brought witness after witness into the dock to question them. Glencoyne, the lead for the prosecution tells the jurors that they will feel pity for Ms Collingstone. I will admit that in the beginning I did feel pity for her, but as the trial went on I started to wonder whether she was so innocent after all. Back and forth my innocent or guilty verdict thoughts went.
This is what makes this book so unputdownable. You are in the courtroom, you are listening to the evidence and you feel like you are part of the story. You are swayed back and forth as twists keep cropping up, making you doubt yourself.
Summary Justice doesn't just play out in the courtroom though. You get to hear how both Benson and Tess feel. You get to be there on the first day Benson enters his prison cell, learn how he has to hold his head up high when people are provoking him, spitting in his face, just waiting for him to make the wrong move, so they can see him back inside.
I felt a connection to both the main characters and became embroiled in their lives. I could understand why Tess started to doubt Benson, I mean I started to doubt his innocence too, as more and more information about his past was revealed.
I was truly intrigued and fascinated with the plot and the characters, and that's what makes a great book. One you can sink your teeth into and forget about the real world around you, submerged in the fictional world that has been created for your enjoyment.
Book Reviewed by Stacey
Purchase Links


John Fairfax is the pen name of William Brodrick who practised as a barrister before becoming a full-time novelist. Under his own name he is a previous winner of the Crime Writers Association Gold Dagger Award and his first novel was a Richard and Judy selection.