Let's go to Nursery by Caryl Hart – Book Review
Let's go to Nursery by Caryl Hart – Book Review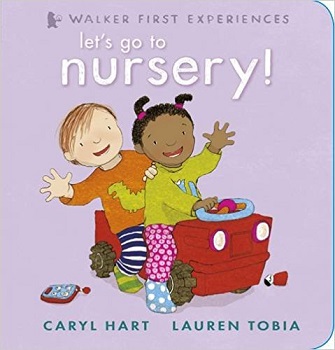 Let's go to Nursery
Author – Caryl Hart
Illustrator – Lauren Tobia
Publisher – Walker Books
Pages – 32
Release Date – 2nd March 2017
ISBN-13 – 978-1406361889
Format – paperback, hardcover
Reviewer – Stacey
I received a free copy of this book
Post Contains Affiliate Links

Join friends Billy and Bee in the first instalment of a brand-new "First Experiences" series set in the urban city centre! Today let's go to … nursery!
It's Billy and Bee's very first day and, at the start, they feel a little shy. But soon they find out there are games to be played, friends to be made, and songs to be sung! A reassuring introduction to nursery that will ignite discussion and help very young children tackle all kinds of new experiences, this delightfully rhythmical read-aloud text for the very youngest of readers is paired with gorgeously fresh artwork from Anna Hibiscus illustrator, Lauren Tobia.

Have fun at nursery with Bee and Billy. Billy doesn't want to say goodbye to his mum when it's time to go to nursery. Bee helps by telling him that a letter has arrived for him, it say's that he needs to go to the farm, as there's lots of work to do.
Bee and Billy have fun playing with the animals, riding on the train, building towers. Dinner time arrives, unfortunately Billy spills his drink and starts to cry, Bee gives him a hug and tells him that he can share hers.
When it's time to go home, it's Bee's turn to be upset, she wants to stay and play, but these two tired children need to go home. They can play another day.
This is a beautiful story of two different young children having a fun day at nursery. Bee is a confident little girl, she likes to make her own fun, and is very caring. Billy is a shy little boy, who isn't, I presume, used to going to nursery. He wants to stay with his mummy, but with Bee's help, he starts to enjoy his day.
Let's go to Nursery is part of Walkers First Experiences range, aimed at toddlers. Being a hard-backed book with thick pages, this book will last in the hands of a small child. It is brightly coloured, with illustrations that fill the whole page, they also perfectly match what is happening in the story, making it easy for pre-readers to understand, and enjoy what is happening on every page.
A superb book to read with your child, especially if they are starting nursery soon, so that they can see that it is a lot of fun.
Book Reviewed by Stacey
Purchase Links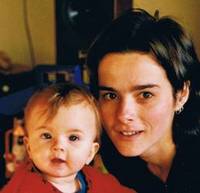 Caryl Hart is a full-time children's writer who also runs creative workshops with local schools. Her first picture book, Don't Dip Your Chips in Your Drink, Kate!, won two regional awards in England, and is short-listed for a third. She lives in England with her guitar-playing husband, two cheeky daughters, one extremely fluffy black cat, a goldfish, four hens, and a dog named Roo.
As well as writing, Caryl Hart loves walking in the hills, swimming, snuggling, baking, weeding, running, sleeping, chatting, and sitting in cafés.
Author Links