The Naughtiest Unicorn by Pip Bird – Book Review
The Naughtiest Unicorn by Pip Bird – Book Review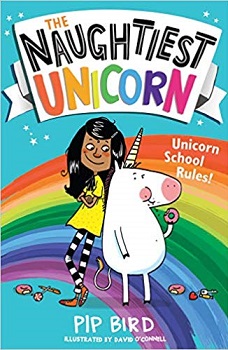 The Naughtiest Unicorn
The Naughtiest Unicorn Book One
Author – Pip Bird
Publisher – Egmont
Pages – 160
Released – 2nd May 2019
ISBN-13 – 978-1405294782
Format – ebook, paperback, audio
Reviewer – Stacey
Rating – 4 Stars
I received a free copy of this book.
This post contains affiliate links.
Mira CAN'T WAIT to start Unicorn School. (Her big sister goes and won't stop going on about it). But when Mira arrives on her first day all the unicorns are gone . . . except Dave!
Dave isn't quite the sparkly unicorn Mira was expecting to find at the end of the rainbow – he's more grumpy than glittery, more interested in lunch than magical Quests and he always runs off when Mira tries to ride him – but Mira's not going to let that get her down.
Along with her new friends and their (much more glittery) unicorns, she is determined to be the best at Quests and protect the special unicorn world!

Mira Desai is excited, it's her first day at Unicorn School, the school her older sister Rani attends and she can't wait to meet her Unicorn partner.
To travel to the school they have to go through a portal, but her sister isn't very supportive so it's left to a new student, Raheem, and his dad to teach Mira how to enter and travel to the school. Once there each of the new pupils is allocated their own unicorn, one that has magically been chosen for them.
Mira watches as her new classmates receive their unicorn partners. Raheem gets Brave, Darcy receives Star and Jake's new friend is called Pegasus. Soon it is Mira's turn when her unicorn partner is revealed she is less than impressed – He's overweight, grumpy, lazy, and a little naughty. He's also called Dave.
Join Mira and Dave as they have two days to complete the initial unicorn training so they can go on their first quest. There's just one issue, misbehave and you are given 'havoc' points, get three and you will not be allowed to attend the first quest. Can Mira keep Dave out of trouble long enough so that she doesn't miss out on something she has been waiting years to do?
The Naughtiest Unicorn is a fun middle-grade book filled with excitement and laugh-out-loud moments. Mira is a sweet young girl who has been desperate to attend the Unicorn School ever since her older sister started there a few years ago, who just happens to keep going on about all the fun she has. She was desperate to receive a unicorn princess, so her partner Dave was a bit of a disappointment for her.
Throughout you get to witness Mira trying desperately to help Dave be a good unicorn. Rather than let her sadness at not getting a unicorn like her friends stand in her way, she is determined to make Dave the best unicorn – Unfortunately, Dave isn't really that bothered.
The Naughtiest Unicorn is certainly inclusive with a diverse cast of characters. There are some really touching moments of friendship throughout too. This is the first book in what I can see becoming a popular children's series, and rightly so, the story was beautifully written, the black and white illustrations throughout are brilliant, and the plot was certainly enjoyable from beginning to end.
Book Reviewer – Stacey
---
Purchase online from:
---
About the Author
Pip Bird is a children's author living in London. When she's not writing magical stories, she dreams of going to Unicorn School and having her own Unicorn Best Friend Forever.
---
Share your thoughts in the comment section below!
---
The above links are affiliate links. I receive a very small percentage from each item you purchase via these link, which is at no extra cost to you. If you are thinking about purchasing the book, please think about using one of the links. All money received goes back into the blog and helps to keep it running. Thank you.