Justice Delayed by Patricia Bradley – Book Review
Justice Delayed by Patricia Bradley – Book Review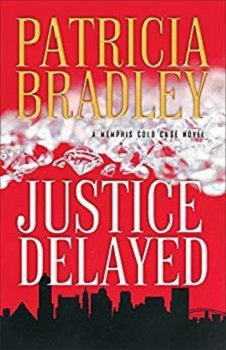 Justice Delayed
Memphis Cold Case Book One
Author – Patricia Bradley
Publisher – Revell
Pages – 354
Released – 3rd January 2017
ISBN-13 – 978-0800728588
Format – ebook, paperback, hardcover, audio
Reviewer – Julie
Rating – 4 Stars
I received a free copy of this book.
This post contains affiliate links.
It's been eighteen years since TV crime reporter Andi Hollister's sister was murdered. The confessed killer is behind bars, and the execution date is looming. But when a letter surfaces stating that the condemned killer didn't actually do it, Detective Will Kincaide of the Memphis Cold Case Unit will stop at nothing to help Andi get to the bottom of it. After all, this case is personal: the person who confessed to the crime is Will's cousin.
They have less than a week to find the real killer before the wrong person is executed. But much can be accomplished in that week–including uncovering police corruption, running for your life, and falling in love.
With the perfect mixture of intrigue and nail-biting suspense, award-winning author Patricia Bradley invites her readers to crack the case–if they can–alongside the best Memphis has to offer.

'Justice Delayed' is a romantic suspense novel by award-winning American author, Patricia Bradley. The story is written in the third person, from the perspectives of several characters, including our main protagonist, Andi who is an investigative journalist. Andi's sister, Stephanie, was killed eighteen years previously and her ex-boyfriend, Jimmy, is sitting on death row having been found guilty of her murder.
Jimmy allegedly confessed to the crime but later retracted his statement. At the eleventh hour, doubt is cast as to his culpability. Can a cold case detective, who also happens to be the accused's cousin, Will Kincaide, save the life of a potentially innocent man? To do so, it is essential that Will finds out exactly what happened to Stephanie in the time leading up to her death.
Andi doesn't want to believe her much loved sister could have been mixed up in any criminal activity but to uncover the truth she must work with Will and her brother, Brad, find Steph's work colleagues and friends. Inevitably we get a bit of misdirection along the way as the layers of love, jealousy, rivalry, fear, intrigue, suspense and family dynamics are peeled back to allow justice to finally be served.
I appreciated having the opportunity to meet Stephanie in the prologue. As the story progresses we have flashbacks to reveal more events from eighteen years ago. There is additional backstory when we move to the present, along with a bit of suspense. However, as Andi had over 300 pages to get through, I wasn't too concerned that she would come a cropper in the first chapter and understand the need to impact upon the reader early on.
There are a lot of characters and also a strong reliance on dialogue over description but I think it works at both levels, with suspense building as the clock ticks down to Jimmy's execution.
I was pleased that the romantic element of the story was underlying rather than overshadowing the plot, with emphasis clearly focused on the potential miscarriage of justice. I was irritated by Andi and Will sidestepping each other for most of the book and found the burgeoning relationship between David and Maggie far more intriguing.
With such a large cast, it is inevitable that some of the characters are a little two dimensional, but Andi is well fleshed out with health issues as well as tragedy to deal with. Having her dependent on painkillers makes her a believable, rather than a clean-cut, heroine.
The basic concept of a race against time to right a wrong is not new but I'm pleased to say in this case, it has been skilfully delivered with the author using many techniques to set her scenes and move the story forward. The dénouement wasn't a huge shock but it was a suitable end to a well-written novel. I award four stars.
Book Reviewer – Julie
---
Purchase online from:
---
About the Author

Winner of an Inspirational Readers' Choice Award in Suspense, Patricia Bradley lives in North Mississippi with her rescue kitty, Suzy, and loves to write suspense with a twist of romance. Her Logan Point series is available at all on-line retailers and major bookstores.
Her workshops on writing include online courses with American Christian Fiction Writers, workshops at the Mid-South Christian Writer's Conference, ACFW Minnesota NICE and Memphis ACFW. When she has time, she likes to throw mud on a wheel and see what happens.





---
Share your thoughts on Justice Delayed in the comment section below!
---
The above links are affiliate links. I receive a very small percentage from each item you purchase via these link, which is at no extra cost to you. If you are thinking about purchasing the book, please think about using one of the links. All money received goes back into the blog and helps to keep it running. Thank you.