The Anxious Assassins by Keith G. Laufenberg – Book Review
The Anxious Assassins by Keith G. Laufenberg – Book Review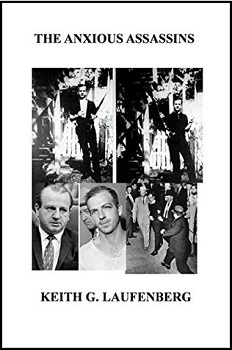 The Anxious Assassins
Author – Keith G. Laufenberg
Publisher – Royal Crown Royal Publishing
Pages – 226
Release Date – 19th December 2014
ISBN-13 – 978-0991420292
Format – ebook, paperback
Reviewer – Clive
I received a free copy of this book
Post Contains Affiliate Links

The Anxious Assassins is another attempt at finally finding out the truth of what happened on November 22, 1963 in Dallas, Texas. In a 2003 interview, Robert Blakey, the Chief Counsel of the Hsca issued a statement on the Cia: ". . .I no longer believe that we were able to conduct an appropriate investigation of the Cia and its relationship to Oswald. . . We now know that the Agency withheld from the Warren Commission the Ciamafia plots to kill Castro.
Had the commission known of the plots, it would have followed a different path in its investigation. The Agency unilaterally deprived the commission of a chance to obtain the full truth, which will now never be known. Significantly, the Warren Commission's conclusion that the agencies of the government cooperated with it is, in retrospect, not the truth. The Agency's process could only have been designed to frustrate the ability of the committee in 19761979. If you want the real story you'll have to read "The Anxious Assassins."

Over the past 53 years there have been many books and articles written, speculating on the truth behind one of the biggest world events in post-war history. As time goes by more is learned as old papers are declassified and participants are more able to speak the truth. For this work Keith G Laufenberg has drawn together a great deal of information to give us a fictional account, based on many facts and a lot of theories.
The first part of the book centres on the life of Lee Harvey Oswald, giving us a sympathetic insight into his beliefs and his reputedly weak character. I particularly enjoyed this part of the book which gave a good explanation as to how he came to be a would-be assassin.
As the story progressed, the author brought in many interesting story-lines describing other possible assassins and various cover-ups although they did involve an extremely long list of characters which I struggled to keep up with. My understanding was not helped by Keith G Laufenberg's fondness for long convoluted sentences; chapter twelve had two sentences of over one hundred words and in chapter twenty-one, I counted one-hundred-and-eighteen words in one sentence. Take deep breaths if you want to read this book out loud.
For me the book was let down by poor editing, overuse of words in italics and errors in continuity. For example Ella Germann became Ella German and George De Morhenschildt became at times George DeMorenschildt, George De Morenschildt and simply George Morenschildt!
The other oft repeated error was in his use of apostrophes in plurals. I noted picnic's, contractor's, silencer's and at least nine instances of Kennedy's when he was referring to multiple members of the Kennedy family which should of course have been spelt Kennedys. Call me petty if you will but if an author is aiming to set the record straight I think he must also convince us of his own technical skill and to present the written word in an acceptable format.
Leaving aside the questionable English and presentation, this is an entertaining narrative that will exercise your mind. It will not tell you exactly what happened because it is unlikely that any single person will ever know the full story but it will set your mind thinking. However, because my reading was hindered by the poor presentation I have restricted my award to just three stars for The Anxious Assassins.
Book Reviewed by Clive
Purchase Links


Keith G. Laufenberg has been a juvenile delinquent, a Marine, a professional boxer, a nightclub comedian, a dishwasher, waiter, laborer, carpenter, car salesman, real estate salesman, mortgage broker, paralegal, private investigator, lifeguard, bartender and bouncer among many other jobs, some less dignified, some more or less nefarious, but has always tried to remain a Human Being.
He uses all of his life experiences in many different situations when writing and always tries to keep the Human Being's perspective in sight when telling each and every story.