Manipulated Lives by H.A Leuschel – Book Review
Manipulated Lives by H.A Leuschel – Book Review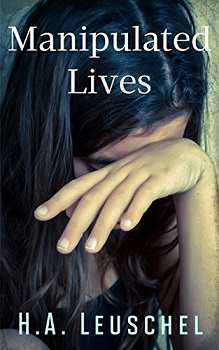 Manipulated Lives
Author – H.A Leuschel
Publisher – CreateSpace
Pages – 274
Release Date – 28th June 2016
ISBN-13 – 978-1534708976
Format – ebook, paperback
Reviewer – Abby
I received a free copy of this book
Post Contains Affiliate Links

Five stories – Five Lives. Have you ever felt confused or at a loss for words in front of a spouse, colleague or parent, to the extent that you have felt inadequate or, worse, a failure? Do you ever wonder why someone close to you seems to endure humiliation without resistance? Manipulators are everywhere.
At first these devious and calculating people can be hard to spot, because that is their way. They are often masters of disguise: witty, disarming, even charming in public – tricks to snare their prey – but then they revert to their true self of being controlling and angry in private. Their main aim: to dominate and use others to satisfy their needs, with a complete lack of compassion and empathy for their victim.
In this collection of short novellas you meet people like you and me, intent on living happy lives, yet each of them, in one way or another, is caught up and damaged by a manipulative individual. First you meet a manipulator himself, trying to make sense of his irreversible incarceration. Next, there is Tess, whose past is haunted by a wrong decision, then young, successful and well balanced Sophie, who is drawn into the life of a little boy and his troubled father. Next, there is teenage Holly, who is intent on making a better life for herself and finally Lisa, who has to face a parent's biggest regret.
All stories highlight to what extent abusive manipulation can distort lives and threaten our very feeling of self-worth.

Manipulated Lives is a collection of five short stories. Each story centres around a manipulator and the long-lasting, devastating effects on their victims, with a deep interest of the psychology of these people at the core.
As soon as I began the first story, "The Narcissist", I knew this was going to be an extremely thought-provoking read. The idea that a manipulator – a person who can force their victim to do things they don't want to do, believe things that aren't true, become a shell of their former selves – can be from all walks of life is something Manipulated Lives thrives on. The idea that the manipulator can appear to be charming, successful and good-looking is something each story has in common too.
Yet, as "The Narcissist" began, it was immediately clear that the boundaries between manipulator and victim are hard to define. In this story, the manipulator is introduced to us as a lonely, sick patient, attached to an IV drip. This was a brilliant beginning, as my interest was immediately piqued by the weakness of this mysterious character. Why was he (or she – at this point I couldn't tell) in hospital? Who had hurt them? Why are they alone? I felt sorry for this person, who clearly also felt very sorry for themselves; all they wanted was "a human hand holding mine, a human voice talking to me with kindness".
We're then told: "First encounters shape the impression we have of a person and can have an impact on how we predict and interpret them". Huh? What is this curve ball? Is this guy not who I'm led to believe he is?!
Answer: not a jot. This guy is the first of five serial manipulators, accused of deceiving his family and ultimately murdering his wife – in front of his children, no less. Woah! But it's not this plot I'm drawn to as a reader, but actually how I was deceived by this character myself. He seemed pathetic, feeble, not even able to grab a cup of water by his bedside, incapable of hurting a fly.
So begins a series of manipulators, or, as each story refers to them, "narcissistic perverts". People who lead double lives, attracting their victims through their wealth, looks, attention, luring them in under a false sense of security.
In the next story, "Tess and Tattoos", we don't get to meet the manipulator, Tess's ex-girlfriend. It's not even immediately clear that Tess is a victim. If anything, she can identify with the narcissist from the first story with how "lonely, very lonely" she feels. And, as we learn, she wasn't innocent herself.
One thing Leuschel excels at throughout Manipulated Lives is create well-rounded, believable characters – even more of a feat when you consider each story is quite short. The blossoming friendship between Sandra, a recent widow starting a job at the nursing home that eighty-something Tess lives at to provide for her children, feels authentic. I particularly connected to this story because, again, it wasn't immediately clear who the manipulator was, but I was deeply invested in the redemptive relationship between patient and carer.
In fact, each story is a different world to be immersed in, and could be read perfectly well as standalone stories. I decided to read them one after the other, and from this realised that these stories link together so well that they could perhaps even be about one victim at different stages of a very eventful life.
For example, Tess is said to suffer from Stockholm Syndrome. In the next story, "The Spell", the victim Sophie has just read a piece about the syndrome for her job as a freelance writer. She goes on an ill-fated weekend with her new boyfriend, David, and his son, Leo, to Brighton, where they are tormented by a mysterious figure who claims to be a link between Leo and his absent mother.
In the fourth story, "Runaway Girl", teenager Holly wants to run away from her crowded home and alcoholic mother to live with her aunt in the Lake District. Instead, she begins a relationship with the school crush, Luke, who ends up cheating her out of her money, confidence and self-worth, culminating in a disastrous day trip to Brighton. Finally, in the fifth story, Lisa is a victim of her son Lucas' (like Luke from the last story, no?) manipulation, partly down to her over protection of him. We hear that during a school trip to Ullswater Lake in his teenage years, he tried to force himself on a female pupil, the very lake that Holly wanted to visit in the Lake District.
These links just go to show that both victims and manipulators have many traits in common, and that these events can happen in everyday life. These victims – interestingly all females living in London, drinkers of calming hot milk and honey, yet more recurring motifs – are united in their strength to prevail, all in their own ways. In some ways, however, it would have been fascinating to read a story with a man as a victim of a manipulator. Although the first story hints at this with a hospitalised narcissist, as does "The Spell" as David tells Sophie that he was the victim of his ex-wife's cruel manipulation of his generosity – it seems that each story's "true" victim is the woman.
Writing this review, it's hard to believe that these were five stories from one collection. Each one was well-crafted and a joy to read, and strong enough to stand up as an individual short story. Leuschel makes ingenious use of different tones and voices for each story, which is why it's easy to forget they're part of a collection, even with the recurring motifs running throughout each one.
If you fancy a novel that's thought-provoking and serious, yet refreshing and thrilling, with clearly well researched psychology propping up the authenticity of each short story, I'd definitely recommend reading Manipulated Lives.
Book Reviewed by Abby
Purchase Links
Amazon.co.uk
Amazon.com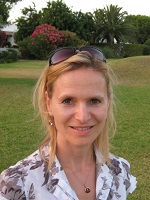 Helene Andrea Leuschel was born and raised in Belgium to German parents. She gained a Licentiate in Journalism, which led to a career in radio and television in Brussels, London and Edinburgh.
Helene moved to the Algarve in 2009 with her husband and two children, working as a freelance TV producer and teaching yoga. She recently acquired a Master of Philosophy with the OU, deepening her passion for the study of the mind. Manipulated Lives is Helene's first work of fiction.
Author Links