Hack by SGM Ashcroft – Book Review
Hack by SGM Ashcroft – Book Review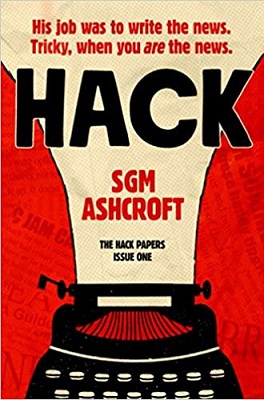 Hack
The Hack Papers Issue One
Author – SGM Ashcroft
Publisher – Felt Side Publishing
Pages – 266
Released – 30th September 2020
ISBN-13 – 978-1527273450
Format – ebook, paperback
Rating – 4 Stars
I received a free copy of this book.
This post contains affiliate links.


Synopsis
It's the scoop of a lifetime, and might just save his career … if they don't kill him first.
Portsmouth. England. The 90s. Meet Llew Sabler, a ferociously ambitious newspaper reporter who'll stop at nothing to reach the top.
'You're meant to write the news, not be the news,' blasts his long-suffering editor, after Llew's latest madcap stunt sparks public outrage.
There's only one thing Llew lusts after more than success: his fellow reporter and friend, the bewitchingly violent Thirza Kirby.
When his oldest pal – serial virgin Emdel Black – steals Thirza's heart, lovesick Llew loses his mind, and takes fake news to disgraceful new levels.
He's collared by the cops, becomes a hate figure and is left facing a jail term.
At his lowest ebb, Llew unearths a shocking and dangerous story. But he knows it's far more than a mere story: it's a death or glory shot at redemption.
Hack is a fast paced black comedy satire, bristling with memorable male and female characters, and crackling with dark British wit.
Hack is a quick moving and lively tale of a young and ambitious reporter trying to get into the big time while working for a small town free newspaper. Unfortunately for him he is a little too keen and in his enthusiasm, finds himself creating the news through a series of scrapes.
I am sure that Ashcroft drew heavily on his early career as a young journalist in Portsmouth and Southampton; hopefully without breaking the law or ethical standards.
I very much enjoyed the 1990's setting and Ashcroft successfully brought back memories of the period with references to Austin Allegros, Tippex and the Stone Roses. There were also derogatory comments about Michael Caine spectacles but from what I can see they have recently had quite a revival.
SGM Ashcroft establishes his humour from the very first page of this book, leaving the reader with no uncertainty as to what is to come. Yes, it is tacky at times and is very much the comedy of a young man of that period. I enjoyed it and frequently laughed out loud but I appreciate it may not appeal to a universal audience. If you are in any doubt, use the "Look Inside" feature on Amazon to read the explosive first page as that will either deter or encourage you.
Although the character of Llew Sabler is a bit of an idiot, the author made me sympathetic to his endeavours and the way that he struggled with the aftermath of his misdeeds. There are some strong support characters in Thirza, Emdel and his editor, Big Al. I also loved the tale of Rollo, the rogue who overcame his handicaps in the best way he knew how, with love and support for his mother and daughter.
As befits a career journalist the text was easy to read, well edited and with one debatable exception it was free of Americanisms. My ebook copy offered me a complimentary copy of Groomed by the same author which I will be downloading shortly.
SGM Ashcroft's humour may not suit everyone but Hack gave me a very entertaining read. I have awarded four stars.
---
What did you think of 'Hack'? Share your thoughts in the comment section below!
---
The above links are affiliate links. I receive a very small percentage from each item you purchase via these link, which is at no extra cost to you. If you are thinking about purchasing the book, please think about using one of the links. All money received goes back into the blog and helps to keep it running. Thank you.
Like us on Facebook – Tweet us on Twitter – Pin us on Pinterest