Julian at the Wedding by Jessica Love – Book Review
Julian at the Wedding by Jessica Love – Book Review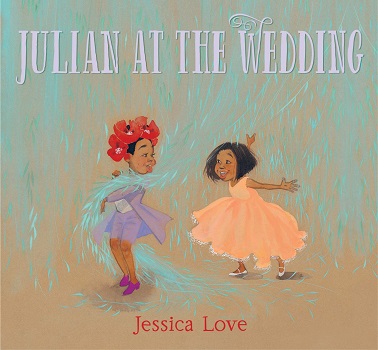 Julian at the Wedding
Author – Jessica Love
Publisher – Walker Books
Pages – 40
Released – 1st October 2020
ISBN-13 – 978-1406397482
Format – paperback, hardcover
Rating – 4 Stars
I received a free copy of this book.
This post contains affiliate links.


Synopsis
The star of Julian Is a Mermaid makes a joyful return – and finds a new friend – at a wedding to be remembered.
Julian and his nana are attending a wedding. Better yet, Julian is in the wedding along with his cousin Marisol. When wedding duties are fulfilled and with a new dog friend in tow, the pair takes off to roam the venue, exploring everywhere from underneath tables to enchanting willow trees to … muddy puddles? After all, it wouldn't be a wedding without fun, laughter and a little magical mischief.
With ingenuity and heart, author-illustrator Jessica Love tells a charming story of friendship, acceptance and celebration.
Julian is back in the second book in his series, the first 'Julian is a Mermaid' I reviewed in June 2018 and was about Julian realising how bright and colourful women's outfits were and wanting to dress up in a billowing outfit that made him look like a mermaid.
In this story, Julian and his friend Marisol are off to a wedding with their grandparents. After the ceremony, the friends rush off to play, together with the bride's dog. It isn't long though before Marisol is covered in dirty all over her pretty peach dress, so Julian offers his shirt for her to wear as a dress.
As with the first book the text is very minimal, just a few words on each double-page. The artwork is lovely and has a pastel look to it, I think the illustrations tell more of the story than the words.
The outfits that the characters wear are truly amazing. I especially love Julian's shorts suit in lilac. I also love how the story shows two women getting married, this isn't something you normally see in children's picture books. Making children understand from a young age that everyone is free to love whoever they like regardless of gender will hopefully make them more accepting as they grow.
Overall, the book is a quick, beautiful read. I still prefer the first book but I did enjoy this one too.
---
What did you think of 'Julian at the Wedding'? Share your thoughts in the comment section below!
---
The above links are affiliate links. I receive a very small percentage from each item you purchase via these link, which is at no extra cost to you. If you are thinking about purchasing the book, please think about using one of the links. All money received goes back into the blog and helps to keep it running. Thank you.
Like us on Facebook – Tweet us on Twitter – Pin us on Pinterest