Detective Dachshund and the Fluffy Thief by Decima Blake – Book Review
Detective Dachshund and the Fluffy Thief by Decima Blake – Book Review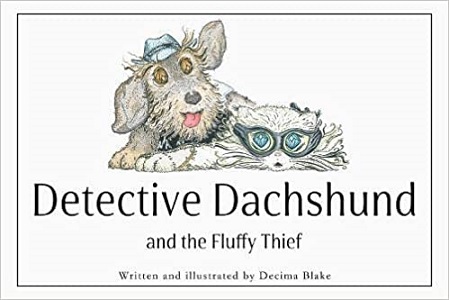 Detective Dachshund and the Fluffy Thief
Author – Decima Blake
Publisher – Nightingale Books
Release Date – 28th April 2022
Pages – 66
ISBN 13 – 978-1838751616
Format – ebook, paperback
Star Rating – 4
I received a free copy of this book.
This post contains affiliate links.

Synopsis
Detective Dachshund of Battersea Police wears a smart blue hat and a matching fleece. He has boundless energy for fighting crime, but his detective skills, sadly, are far from sublime. Now, Detective Dachshund one night was told, to catch a fluffy thief who was sneaky and bold. The thief went by the name of Clawdius Cat… and should our detective trust Reece the Rat? Wanted posters showed the cat's cheeky face, blowing raspberries from lamp posts all over the place! Officers had already scoured the city… how could Detective Dachshund find this bad kitty?
Detective Dachshund and the Fluffy Thief is a fun, children's rhyming story about a Dachshund who is a detective and his tails (sorry pun intended) as he tries to locate and bring to justice prolific thief Clawdius Cat with a twist in the story.
The plot is most certainly exciting and engaging. The illustrations are fabulous and bring the tale to life. The wording is quite heavy though, even if it does rhyme – which is done perfectly. With there being almost double the number of pages of what you usually find in a picture book and quite a lot of text I would say this is more for early middle-grade readers than picture book ones.
Overall, it is an adventurous and humorous read that I can see children enjoying from beginning to end.
---
Purchase Online:
Decima Blake

Decima Blake, author of the Hingston series, has a long-standing interest in child protection and is deeply passionate about child victims of crime. Hingston: Smoke and Mispers is the second in the series, following Hingston's Box which was published in 2016. Decima combines historical research, real-life police procedure and a touch of spookiness to provide readers with an immersive experience as they join Hingston on his race to solve cases involving missing persons and murder.
A percentage of royalties are donated to the charity Embrace Child Victims of Crime. Detective Dachshund and the Fluffy Thief is written and illustrated by Decima Blake. She created Detective Dachshund to entertain audiences of all ages with humorous stories and to inspire young readers to explore the fun of writing in rhyme. A percentage of royalties will be donated to Battersea Dogs and Cats Home.
Author Links:
---
The above links are affiliate links. I receive a very small percentage from each item you purchase via these links, which is at no extra cost to you. If you are thinking about purchasing the book, please think about using one of the links. All money received goes back into the blog and helps to keep it running. Thank you.