Rita wants a Genie by Máire Zepf – Book Review
Rita wants a Genie by Máire Zepf – Book Review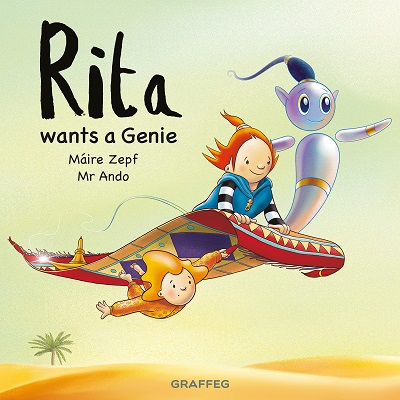 Rita wants a Genie
Author – Máire Zepf
Illustrator – Mr Ando
Publisher – Graffeg Limited
Release Date – 28th April 2022
Pages – 28
ISBN 13 – 978-1802580464
Format – ebook, paperback
Star Rating – 4
I received a free copy of this book.
This post contains affiliate links.

Synopsis
Meet Rita. She's a little girl with very big ideas. Rita wants a genie who will obey her every command and give her all that she dreams of. Alacazam! Alacazee! Zim! Zam! Alacazoo! But what if someone else gets their hands on the genie?
Rita wants a Genie is part of the 'Rita Wants' series of books of which to date there are six. In this latest book, Rita decides she wants a Genie because Genie's have to do as she says not like little brothers.
However, whilst she is thinking about all the lovely things she could ask her Genie to do she realises that they don't just have one master and what awful things might her little brother make her do if he becomes the Genie's master too.
What I love about this series is how imaginative Rita is and that in most of the books she ways up the pros and cons of her choices.
The pages are filled with bright, colourful illustrations that stand out and show Rita as she works her imagination and comes up with some wonderful ideas. The story will hopefully make the readers use their imaginations and come up with some fabulous ideas of their own.
---
Purchase Online:
Máire Zepf

Máire Zepf has written 12 books for children, from picture books to a YA verse novel. Winner of the KPMG Children's Book of the Year, the Réics Carl Award and a White Raven in 2020, her books appear in 8 languages worldwide. The Co. Down author was the first Children's Writing Fellow for Northern Ireland and is Artistic Director for Quotidian.
Author Links:
---
The above links are affiliate links. I receive a very small percentage from each item you purchase via these links, which is at no extra cost to you. If you are thinking about purchasing the book, please think about using one of the links. All money received goes back into the blog and helps to keep it running. Thank you.