Frankenstiltskin by Joseph Coelho – Book Review
Frankenstiltskin by Joseph Coelho – Book Review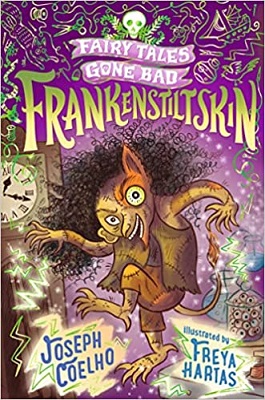 Frankenstiltskin
Fairy Tales Gone Bad Book Two
Author – Joseph Coelho
Illustrator – Freya Hartas
Publisher – Walker Books
Pages – 240
Released – 7th October 2021
ISBN-13 – 978-1406389678
Format – ebook, paperback
Rating – 5 Stars
I received a free copy of this book.
This post contains affiliate links.


Synopsis
The second story in a funny, deliciously dark, three-part series of twisted classics, written in verse by award-winning poet Joseph Coelho.
Joining the family business, animal-lover Bryony proves to be an extraordinary taxidermist, whose tender fingers create displays which comfort, educate and astound. But when Byrony's proud father boasts of her skill, who should come calling but the secretive King of all Mythica. Locking her away, he gives her three horrible tasks … three impossible tasks! It's only then that a strange, sinister creature emerges from the shadows of the castle, offering Bryony a helping hand… But at what cost?
Frankenstein meets Rumpelstiltkin in this expertly-stitched story about a powerful king, a girl unafraid to stand up for her beliefs, and a monstrous little creature with magic – and greed – in his bones.
The second book in the Fairy Tales Gone Bad collection has just been released in time for Halloween. Frankenstiltskin is a retelling of the old fairy tale Rumpelstiltskin, though I did have to have a quick scan of what the original was about as it has been many, many years since I read it.
In this version, a taxidermist's daughter is taken by the king of the land to bring back to life his deceased son's animals, including a fox and a polar bear. Her father told one of the king's men that his daughter is a better taxidermist than he is and has a way of bringing the animals back to life, though he didn't mean literally.
The king orders her to bring the animals back to life but she can't, she can only stuff them and make them look realistic. That is until Frankenstiltskin arrives and offers to bring them back to life in return for a reward.
Frankenstiltskin is a lot of fun and will keep the reader engaged the whole way through. It contains some amazing black and white artwork on each page that brings the retelling to life.
The book is a little bit creepy and quite humorous at times too. It is a good length for a middle-grade reader and will keep them entertained for a while, yet, short enough that they could read it in one sitting if they so desired.
One of the main things I love about this series is that the books contain some wonderful messages, this time the messages are about the way people treat animals and how to look after them properly.
Another amazing book from the collection after 'Zombierella' which was released last year.
Purchase Online From:
---
What did you think of 'Frankenstiltskin'? Share your thoughts in the comment section below!
---
The above links are affiliate links. I receive a very small percentage from each item you purchase via these links, which is at no extra cost to you. If you are thinking about purchasing the book, please think about using one of the links. All money received goes back into the blog and helps to keep it running. Thank you.
Like us on Facebook – Tweet us on Twitter – Pin us on Pinterest – Join us on Instagram