Do They All Sleep? by Srividhya Lakshmanan – Book Review
Do They All Sleep? by Srividhya Lakshmanan – Book Review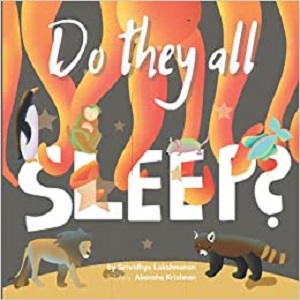 Do They All Sleep?
Author – Srividhya Lakshmanan
Illustrator – Akansha Krishnan
Pages – 31
Released – 6th August 2021
ISBN-13 – 979-8745647413
Format – ebook, paperback
Rating – 3.5 Stars
I received a free copy of this book.
This post contains affiliate links.


Synopsis
Whether you laze, doze, snuggle, cuddle, nap or kip, you need to rest for a bit, but do animals ever sleep?
Time to jump into the ocean, sneak in some burrows, run through the savannah, roll down the hill, and find out how they sleep. 'Do they all sleep?' is a colorful picture book that can help your toddler learn how and where animals sleep through some fun little rhymes. In the end, let your toddler tell about their favorite way to snooze.
Grab this book now and watch your little one's fun journey to a peaceful sleep every single night.
Do They All Sleep? is a young children's picture book that is about a child wanting to know if animals go to sleep like him. The author takes us on a journey meeting lots of different animals to find out how they sleep.
I love the idea behind the book and the artwork which is bright, full-page, and colourful is amazing. However, I do feel that the book would have worked better if the same question would have been put to each animal, rather than a different word to mean sleep used for each one. Children learn to read by repetitiveness and I think the author missed a trick here to use repetition in her work.
Putting aside my tiny issue above the book is an enjoyable read. Children will enjoy meeting lots of animals and finding out how they sleep, I also love the section at the back where if you get the paperback copy the child can add their photo and write how they sleep too.
This is a decent picture book that is inviting and interesting and will keep a child entertained.
Purchase Online From:
---
What did you think of 'Do They All Sleep?'? Share your thoughts in the comment section below!
---
The above links are affiliate links. I receive a very small percentage from each item you purchase via these links, which is at no extra cost to you. If you are thinking about purchasing the book, please think about using one of the links. All money received goes back into the blog and helps to keep it running. Thank you.
Like us on Facebook – Tweet us on Twitter – Pin us on Pinterest – Join us on Instagram