Baby Eats the Rainbow by Ashley Nagi – Book Review
Baby Eats the Rainbow by Ashley Nagi – Book Review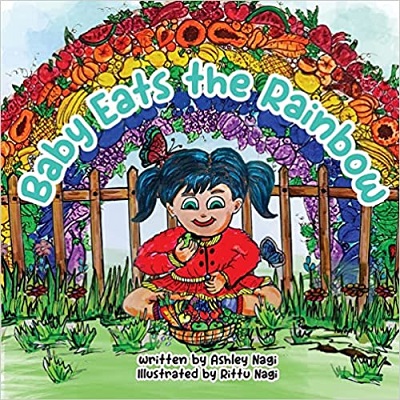 Baby Eats the Rainbow
Author – Ashley Nagi
Illustrator – Rittu Nagi
Release Date – 13th October 2022
Pages – 28
ISBN 13 – 979-8986073101
Format – ebook, paperback, hardcover
Star Rating – 5
I received a free copy of this book.
This post contains affiliate links.

Synopsis
Join Baby on an adventure as she develops incredible super powers by eating the rainbow! Experience the magical world of whole foods while learning about the nutrients our fruits and veggies give us. Teach your child about the importance of healthy eating to keep brains and bodies strong.
Baby Eats the Rainbow is a young children's educational/picture book that teaches youngsters what different coloured food does to the body. From yellows containing high levels of Vitamin C which helps with immunity to red foods that help the heart and skin.
I love this book. It is straightforward and to the point and yet told in a fun way. It doesn't overcomplicate the information and it is written in a style that children will be able to understand perfectly. Hopefully they will realise that by eating the rainbow they can be stronger, healthier, and have superpowers (not like the Avengers but proper ones).
The book is wonderfully illustrated with bright colours and the images complement the words. There are a few hard scientific words in the book, but that is where a grown-up comes in to help the reader.
At the back of the book are some puzzles to keep the reader engaged and to help develop the knowledge they have just learned.
Overall, this is a fantastic book and one that every child should read, especially fussy eaters.
---
Purchase Online:
Ashley Nagi
Ashley Nagi wrote her first book, "Baby Eats the Rainbow" to inspire a love of wholesome foods in her child and the other littles in her life. When she's not busy cooking, working out and spending time with family, you can usually find her rambling about health and nutrition on her blog Love Lentu, at www.lovelentu.com. She is originally from Canada and lives with her family in Seattle, Washington.
Author Links:
---
The above links are affiliate links. I receive a very small percentage from each item you purchase via these links, which is at no extra cost to you. If you are thinking about purchasing the book, please think about using one of the links. All money received goes back into the blog and helps to keep it running. Thank you.