Monty and the Poppit Dragon by M. T. Sanders – Book Review
Monty and the Poppit Dragon by M. T. Sanders – Book Review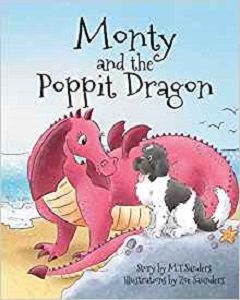 Monty and the Poppit Dragon
Author – M. T. Sanders
Publisher – 2QT Limited
Pages – 36
Released – 22nd June 2018
ISBN-13 – 978-1912014064
Format – paperback
Reviewer – Stacey
Rating – 4 Stars
I received a free copy of this book.
This post contains affiliate links.
A Seaside Adventure!
Monty, Cookie and the spangles are off on their holidays to sunny Pembrokeshire and the beautiful beach at Poppit Sands.
In a cave they meet a new friend, the Poppit Dragon, who is sad because she can't fly.
Can Monty and the gang save the day?
A funny, sometimes moving, and ultimately uplifting story for children.

Monty, his friends, and the hoomans have headed to Wales on holiday. Whilst playing on the beach Cookie wanders into a cave and comes across a sad dragon called Dilys. Dilys is sad because her family has flown away and she can't fly, nor can she breathe fire.
Cookie tells Dilys that her brother Monty is very clever and that he will help her to fly. Monty isn't so sure but comes up with an idea to speak to the other animal that can fly and see how they do it, starting with Steven Seagull.
Will Monty be able to help Dilys learn to fly?
Monty and the Poppit Dragon is a children's picture book featuring Monty the dog. There are numerous books featuring Monty and we reviewed two of them last year – 'I'm not a Pandacow' and 'Monty and Friends Save Christmas'.
This book is just adorable. Monty is ever so helpful and Cookie is right he is also very clever. As we visit each of the other animals that can fly they all tell Dilys that her wings are too small and that she will never fly. Monty won't let Dilys give up though, he is determined that she will succeed and tells her she shouldn't listen to those that tell her she can't achieve her dream. Good advice.
The full-page illustrations are just beautiful and make the plot come to life. I now can't wait to read the next Monty book that I have, 'Monty and the Ocean Rescue: A Plastic Disaster' as the books are so delightful and fun to read.
Book Reviewer – Stacey
---
Purchase online from:
---
About the Author
Monty is a Newfoundland dog who enjoys nothing more than writing books poetry and blogs helped by his hoomans. I'm not a Pandacow is the first in a series of books about Monty's adventures and has proved an instant hit. Apart from his literary skills Monty is an accomplished fundraiser for various charities and regularly visits schools and nursing homes.
MT Sanders the hooman author has now written three books with the help of his trusty sidekick, I'm not a Pandacow released in April 2017 and currently sold over 2000 copies. Monty and the Slobbernosserus was the very successful follow up and June 2018 sees the third book in the series Monty and Poppit Dragon.
There is also a new Christmas story featuring the dogs.



---
Share your thoughts on Monty and the Poppit Dragon in the comment section below!
---
The above links are affiliate links. I receive a very small percentage from each item you purchase via these link, which is at no extra cost to you. If you are thinking about purchasing the book, please think about using one of the links. All money received goes back into the blog and helps to keep it running. Thank you.