The Proper Way to Meet a Hedgehog by Paul B Janeczko – Book Review
The Proper Way to Meet a Hedgehog by Paul B Janeczko – Book Review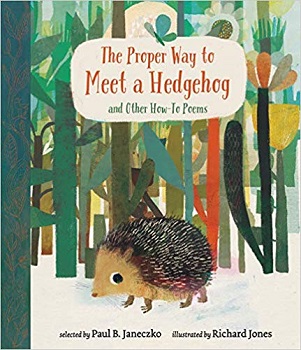 The Proper Way to Meet a Hedgehog
and Other How-To Poems
Author – Paul B Janeczko
Illustrator – Richard Jones
Publisher – Walker Books
Pages – 48
Released – 25th February 2019
ISBN-13 – 978-0763681685
Format – hardcover
Reviewer – Stacey
Rating – 4 Stars
I received a free copy of this book.
This post contains affiliate links.
Today I walked outside and spied
a hedgehog on the hill.
When she and I met eye to eye,
she raised up straight and still.
Be they practical (how to mix a pancake or how to bird-watch) or fanciful (how to scare monsters or how to be a snowflake), the poems in this book boast a flair and joy that you won't find in any instruction manual.
Poets from Kwame Alexander to Pat Mora to Allan Wolf share the way to play hard, to love nature, and to be grateful. Soft, evocative illustrations will encourage readers to look at the world with an eye to its countless possibilities.
The Proper Way to Meet a Hedgehog, is a book filled to the brim with thirty-three wonderful poems by a variety of poets. The poems cover lots of different subjects including animals, food, and life in general.
The book is not only filled with amazing poems, but it also is full of wonderful full-page illustrations that complement each poem perfectly.
My favourite poem was about camels called 'How to Tell a Camel' by J. Patrick Lewis. In which the poet explains how to remember which type of camel has one hump and which has two by turning the first letter of their name on its side – Dromedary has one hump and Bactrian has two humps.
The book is a great introduction to poetry for children as all the poems are aimed at or about children and they all are simply beautiful.
Book Reviewer – Stacey
---
Purchase online from:
---
About the Author
Paul B. Janeczko (1945-2019) was a poet and teacher who edited numerous award-winning poetry anthologies for young people, including A Poke in the I, A Kick in the Head, A Foot in the Mouth, and The Death of the Hat, all of which were illustrated by Chris Raschka; Firefly July, illustrated by Melissa Sweet; and The Proper Way to Meet a Hedgehog and Other How-To Poems, illustrated by Richard Jones.
He also wrote Worlds Afire; Requiem: Poems of the Terezín Ghetto; Top Secret: A Handbook of Codes, Ciphers, and Secret Writing; Double Cross: Deception Techniques in War; The Dark Game: True Spy Stories from Invisible Ink to CIA Moles, a finalist for the YALSA Award for Excellence in Nonfiction for Young Adults; and Secret Soldiers: How the U.S. Twenty-Third Special Troops Fooled the Nazis.



---
Share your thoughts in the comment section below!
The above links are affiliate links. I receive a very small percentage from each item you purchase via these link, which is at no extra cost to you. If you are thinking about purchasing the book, please think about using one of the links. All money received goes back into the blog and helps to keep it running. Thank you.
Posts straight to email via Bloglovin – Like us on Facebook – Tweet us Twitter – Pin us on Pinterest
If you enjoyed our post please feel free to share it using the social media links below.