Siri the Viking: The Emperor's Treasure by Patric Nystrom – Book Review
Siri the Viking: The Emperor's Treasure – Book Review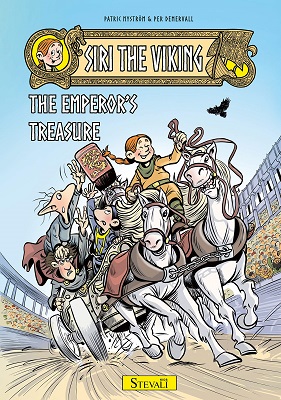 Siri the Viking: The Emperor's Treasure
Author – Patric Nystrom
Illustrator – Per Demervall
Publisher – Eken Press
Pages – 86
Released – 15th August 2020
ISBN-13 – 978-1908233288
Format – hardcover
Review by – Stacey
Rating – 5 Stars
I received a free copy of this book.
This post contains affiliate links.


It is spring, and the Vikings are preparing to set sail for Miklagard. But Siri is told she has to stay behind! Her Dad, the chieftain, says that the journey is too dangerous for a little girl. But if he thinks that is going to stop her, he's wrong.
She stows away on his ship. Aboard the same ship is a mysterious box meant to be delivered to the Emperor himself. But the villainous duo Ivar and Grim are eager to get their hands on the box, and Siri has to use all her courage and cleverness to protect it. Luckily, she is helped by Zack, a mysterious boy she meets in Miklagard. But who is he really?

Eleven-year-old Siri was the daughter of the Viking village Chieftain, Torkel. She was very articulate, clever, and brave.
Her father was getting ready to take his goods to the city of Miklagard on his ship to be sold. The crossing would be dangerous and take many months. Siri wanted to go with him but he forbid it telling her she was too young.
Among the cargo was a special box filled with the Emperor's Treasure that Torkel was taking with him at the request of his brother. But Ivar the Terrible wanted the treasure and was getting ready to follow and attack Torkel and his men on the journey.
Siri is a very stubborn girl who didn't let her dad saying she couldn't go stop her and so she stowed away. Good job she did as her brilliant mind was called upon more than once along their journey.
Siri the Viking: The Emperor's Treasure is the first book in a series about the young Viking. The book is written in a comic book style and I'll admit to never really being a fan of this style previously but this story works perfectly this way.
I loved how you can follow the small amazing illustrations and even without the text, you can see what is happening. Talking of the text it is a mixture of a fast-paced adventure and humour.
This would be perfect for children to learn about the Vikings in a fun way. Remembering back to my school history class I can honestly say that I found Viking lessons boring and whilst I had retained some knowledge it was very little. This book made learning about them a whole lot of fun. Plus, the facts at the back were eye-opening. I didn't know about the Viking 'graffiti' in Istanbul that is still there. I was that intrigued I had to Google it to see images of it.
I already have book two in the series and I can't wait to dive in as this one was completely enjoyable and Siri is such an amazing young girl.
Book Reviewer – Stacey
---
Purchase online from:
---
About the Author
Patric Nyström (born 1968) debuted in 1991 and has since written for a long line of comic book series, including the Swedish Moomin comics and the comic adaptation of Frans G. Bengtsson's epic The Long Ships (Red Orm), the first part of which was published in 1999.
Siri the Viking, in which real historical events, places and people serve as the backdrop for the title character's adventures, is his first major solo project.


---
About the Illustrator
Per Demervall (born 1955) is one of Sweden´s most experienced comic book artists, with a wide range of publications. He made his debut in 1979 with Ulltryfflarna (The Wool Truffles), a fantasy comic for children. His breakthrough came in 1986 with the comic book adaption of August Strindberg´s The Red Room.
In December 2018 he was awarded the Swedish Academy of Comic Art´s prestigious Adamson statuette for "a versatile and long-standing comic book career". Demervall's recent work on the series Siri the Viking has been highly praised.


---
What did you think of Siri the Viking: The Emperor's Treasure? Share your thoughts in the comment section below!
---
The above links are affiliate links. I receive a very small percentage from each item you purchase via these link, which is at no extra cost to you. If you are thinking about purchasing the book, please think about using one of the links. All money received goes back into the blog and helps to keep it running. Thank you.
Like us on Facebook – Tweet us on Twitter – Pin us on Pinterest