Total Blackout by Alex Shaw – Book Review
Total Blackout by Alex Shaw – Book Review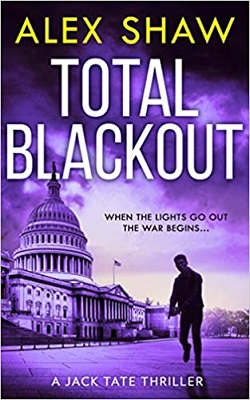 Total Blackout
A Jack Tate SAS Thriller Book One
Author – Alex Shaw
Publisher – HQ
Pages – 384
Released – 25th September 2020
ISBN-13 – 978-0008412265
Format – ebook, paperback, audio
Review by – Stacey
Rating – 4 Stars
I received a free copy of this book.
This post contains affiliate links.


A catastrophic attack. A country in chaos. A race to prevent war.
British M16 agent, and former SAS trooper, Jack Tate is trying to escape his past when he witnesses a terrorist attack of unthinkable scale. An electro-magnetic pulse knocks out the US power grid, killing anything with a computer processor, throwing the whole country into chaos.
Under the cover of the blackout, a clandestine operation aims to assassinate prominent public figures on US soil. Looting and violence spreads across the country. And Jack Tate's past comes back to haunt him. As the only intelligence operative on the ground, he is hurled into a mission that will put him – and the people he loves – in immediate danger.
With the fate of the United States on the line, only he can prevent the horror of a new world war.

British MI6 agent Jake Tate is on holiday in Maine, USA when a terrorist attack on a massive scale takes place. An Electro-Magnetic Pulse (EMP) had been detonated which destroys anything that is controlled by electronics. Being the world we live in today that is a hell of a lot of things and rendering the country to its knees.
With the country in a panic, key figures being assassinated, and violence escalating Jake's skills are called upon as he is the only person on the ground in the US that has the knowhow to stop this attack turning into a war.
Total Blackout is an exciting, explosive thriller that had me on the edge of my seat more than once. The book moves between the bad guys and Jake and we also get to see into Jake's past. The book opens with the blackout and then moves back in time two days.
Whilst I was gripped to the pages I was also a little disappointed that by 35% of the way through the book we still weren't back where we started with the blackout and that apart from Jake's few suspicions of the Russian's staying at the same motel as him, being stopped by the police, and some assassination attacks nothing more had occurred. I was expecting this to be a full-on adventure the whole way through.
This is a tense thriller that is very modern and shows how much we actually rely on technology these days. I loved Jake's character and the way he thought about things and acted. He had an air of James Bond to him, just not as posh!
This book is exhilarating, frightening, and far too realistic for my liking 🙂 I now can't wait to see what is install for Jake in the future.
Book Reviewer – Stacey
---
Purchase online from:
---
About the Author
ALEX SHAW B.A.(Hons), P.G.C.E. spent the second half of the 1990s in Kyiv, Ukraine, teaching Drama and running his own business consultancy before being head-hunted for a division of Siemens. The next few years saw him doing business for the company across the former USSR, the Middle East, and Africa.
Alex is an active member of the ITW (The International Thriller Writers organisation) and the CWA (the Crime Writers Association). He is the author of the #1 International Kindle Bestselling 'Aidan Snow SAS thrillers' COLD BLOOD, COLD BLACK, COLD EAST, DELTA FORCE VAMPIRE and the forthcoming JACK TATE thriller series. His writing has also been published in the thriller anthologies DEATH TOLL, DEATH TOLL 2, DEATH TOLL 3, CAPITAL CRIMES and ACTION PULSE POUNDING TALES 2 alongside International Bestselling authors Stephen Leather and Matt Hilton.
Alex, his wife and their two sons divide their time between homes in Kyiv, Ukraine, Worthing, England and Doha, Qatar.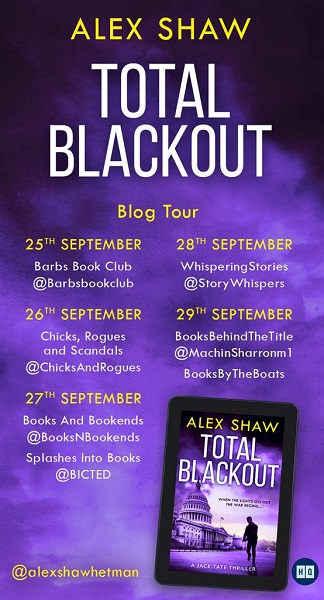 ---
What did you think of Total Blackout? Share your thoughts in the comment section below!
---
The above links are affiliate links. I receive a very small percentage from each item you purchase via these link, which is at no extra cost to you. If you are thinking about purchasing the book, please think about using one of the links. All money received goes back into the blog and helps to keep it running. Thank you.
Like us on Facebook – Tweet us on Twitter – Pin us on Pinterest