Inherit Guilt by Russell Cordner – Book Review
Inherit Guilt by Russell Cordner – Book Review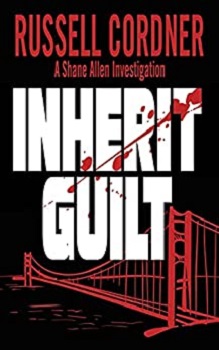 Inherit Guilt
A Shane Allen Investigation
Author – Russell Cordner
Pages – 417
Released – 18th June 2021
ISBN-13 – 979-8507046850
Format – ebook, paperback
Rating – 5 Stars
I received a free copy of this book.
This post contains affiliate links.


Synopsis
The Story Might Save His Career. If it Doesn't Kill Him First.
Don't call him a blogger. Shane Allen may have lost his byline at The San Francisco Journal, but at least he's writing real news. And an old source going on the record is bound to put his fledgling online publication on the map.
Inspector Gail York is San Francisco's first Black female homicide detective. She's got a backlog of unsolved cases, a rookie partner, and an old school bigot refusing to retire. The last thing she needs is a sensational double homicide.
But when twins brothers are accused of killing their affluent parents, Shane's source is silenced forever. And York gets the last thing she needs.
In a race of innocence versus guilt, by the time either uncovers the truth it may be too late for justice.
Steeped in the rich and colorful history of San Francisco, fans of Harlan Coben, John Lescroat, and Stieg Larsson will love Inherit Guilt.
Shane Allen is an investigative reporter for the San Francisco Journal. At least he was, before he sabotaged his career. Now he runs an online newspaper (not a blog, he'll tell you) that barely pays the bills. So when high-powered divorce lawyer Grant Whalley offers to pay him for a quick job of photo surveillance in L.A. he jumps at the chance and gets the pictures. Mission accomplished, right? Wrong! Because by the next morning, Grant and his wife are dead, shot to death in their burning Pacific Heights home.
Enter Inspector Gail York. She's the SFPD's first female African American homicide inspector. Right away she pegs this as a double homicide, not a murder-suicide, and elects Shane as her prime suspect. But new evidence quickly points her toward the Whalleys' twin teenage sons: Joshua and Jason. It looks like a slam dunk and Gail's captain insists the case is closed. But Gail senses the evidence is too perfect. She keeps digging despite the captain's blunt insistence that she move on.
Meanwhile, Grant's mother, convinced her grandsons are innocent, hires Shane to find out who really killed her son. Shane's investigation puts him on a collision course with Inspector York and almost gets him killed in the bargain!
I enjoyed Inherit Guilt from the very beginning and kept reading until I reached the end many hours later. Set in San Francisco and the Bay area, I had great fun following the action on a map of one of my favorite cities. The story is intriguing, the writing engaging, and there's enough action and suspense to keep the reader turning pages. The narration is in the third person with the perspective alternating between Shane and Inspector York. Occasionally the changing perspective leaves the reader hanging momentarily but it swings back soon enough. The finish isn't completely unexpected, but I wouldn't call it predictable either.
In one place, a single sentence switches the point of view abruptly from the third person to the first person and back. This occurs during the meeting where Grant's mother hires Shane as an investigative consultant. Was the story originally in the first person and this sentence a missed edit, or was it an unintentional flub? I couldn't tell and, in the end, it doesn't matter. It's a minor speed bump on the way through a riveting book.
Whether Inherit Guilt is a mystery or a thriller is largely irrelevant. It should more than satisfy fans of either genre.
Purchase Online From:
---
What did you think of 'Inherit Guilt'? Share your thoughts in the comment section below!
---
The above links are affiliate links. I receive a very small percentage from each item you purchase via these links, which is at no extra cost to you. If you are thinking about purchasing the book, please think about using one of the links. All money received goes back into the blog and helps to keep it running. Thank you.
Like us on Facebook – Tweet us on Twitter – Pin us on Pinterest – Join us on Instagram