The Ladies' Midnight Swimming Club by Faith Hogan – Book Review
The Ladies' Midnight Swimming Club by Faith Hogan – Book Review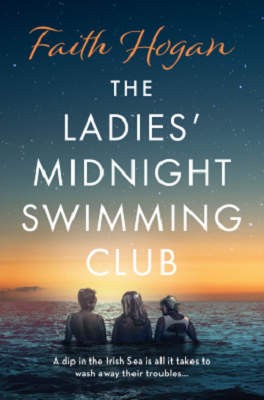 The Ladies' Midnight Swimming Club
Author – Faith Hogan
Publisher – Aria
Pages – 256
Released – 6th May 2021
Format – ebook, paperback
Rating – 4.5 Stars
I received a free copy of this book.
This post contains affiliate links.


Synopsis
Three women. Three different stages of life. United by one thing: the chance to start again.
When Elizabeth's husband dies, leaving her with crippling debt, the only person she can turn to is her friend, Jo. Soon Jo has called in her daughter, Lucy, to help save Elizabeth from bankruptcy. Leaving her old life behind, Lucy is determined to make the most of her fresh start.
As life slowly begins to return to normal, these three women, thrown together by circumstance, become fast friends. But then Jo's world is turned upside down when she receives some shocking news.
In search of solace, Jo and Elizabeth find themselves enjoying midnight dips in the freezing Irish Sea. Here they can laugh, cry and wash away all their fears. As well as conjure a fundraising plan for the local hospice that will bring the whole community together…
Elizabeth is newly widowed after her GP husband Eric died. Their relationship had been hard work and distant for some time, but after he dies Elizabeth is left reeling when she discovers that he had a gambling problem and has left her thousands of pounds in debt. The GP surgery is attached to her home. She needs to find someone to take over and quickly before she loses both of them.
Jo is an older lady who has lived in the tiny Irish village of Ballycove all her life. She is alone and looking frail but she is the heart of the community and always offering to help others, including Elizabeth as she has a suggestion. Her daughter Lucy is a doctor.
Lucy is left picking up the pieces after her now ex-husband left her and their son and heading to Australia to be with someone else. She is a doctor in a busy A&E department and has just taken some leave as she was nearly burnt out from dealing with everything. She heads to Ballycove to be near her mother and the sea and hopefully turn her life around.
These three women form The Ladies' Midnight Swimming Club where they can swim away their troubles in the freezing cold waters of the Irish sea. It is a place they can be alone, gather their thoughts, talk, laugh, and listen.
The Ladies' Midnight Swimming Club is a beautiful story of friendship. It is a tale of grief, forgiveness, loneliness, heartbreak, second chances, and so much more.
The women are so alike and so different from one another. They are all dealing with personal issues, some going back years, others shocking sad new news. I loved all of them. They were warm, caring, compassionate, and so lovely to spend your time with.
As well as the women we also meet Dan who had rented a cottage in the village after leaving his high-flying job and needing some time out and Lucy's teenage son Niall who hates his boarding school and wants to come home.
The book is told between April and August, in five monthly parts and from Elizabeth's, Jo's, Lucy's, Dan's, and Niall's points of view. I'm not always a lover of multiple points of view but I'm not sure this book would have been so touching and intimate had we not heard from them each individually. It is a beautiful book that covers some emotional subjects and you may need some tissues now and again, however, it is certainly worth your time just to get to know these special women who you won't forget in a hurry.
Purchase Online From:
---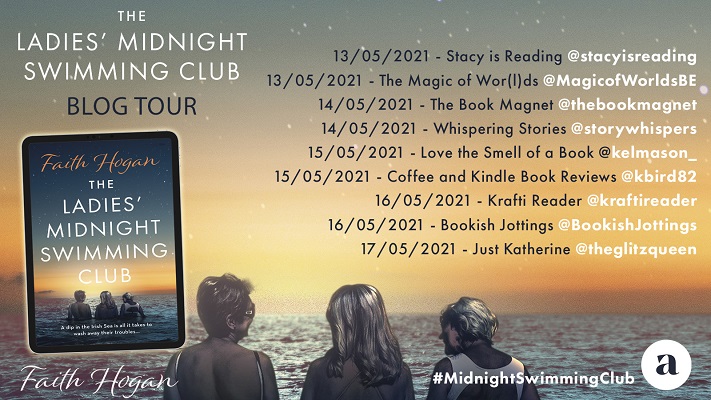 ---
What did you think of 'The Ladies' Midnight Swimming Club'? Share your thoughts in the comment section below!
---
The above links are affiliate links. I receive a very small percentage from each item you purchase via these link, which is at no extra cost to you. If you are thinking about purchasing the book, please think about using one of the links. All money received goes back into the blog and helps to keep it running. Thank you.
Like us on Facebook – Tweet us on Twitter – Pin us on Pinterest – Join us on Instagram