Little Miss Busy Surviving Motherhood by Liz Bankes – Book Review
Little Miss Busy Surviving Motherhood by Liz Bankes – Book Review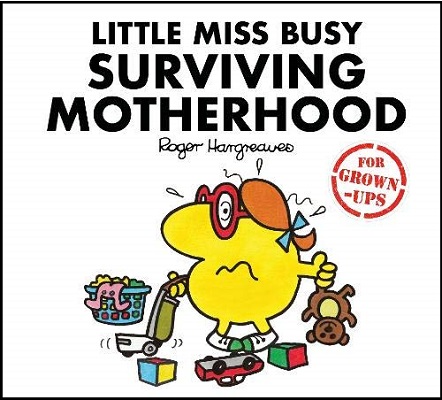 Little Miss Busy Surviving Motherhood
The Mr Men for Grown-Ups series
Author – Liz Bankes, Lizzie Daykin, Sarah Daykin
Illustrator – Roger Hargreaves
Publisher – Egmont
Pages – 32
Released – 2nd November 2017
ISBN-13 – 978-1405288712
Format – hardcover
Review by – Stacey
Rating – 5 Stars
This post contains affiliate links.


The Mr. Men have been tickling children for generations with their funny and charming antics. The Mr Men for Grown-Ups series now gives adults the chance to laugh along as the Mr Men and Little Miss try to cope with the very grown-up world around them. Featuring Roger Hargreaves classic artwork alongside hilariously funny new text.
Little Miss Busy hadn't always been so busy. She used to enjoy lazy weekends and leisurely lie-ins. But then she had kids. Now her life is a constant juggle of demands and pressure to be the perfect mum. How does Little Miss Busy do it?
The perfect book for anyone who has ever faced the trials and tribulations of the wonderful and exasperating world of parenthood.

Little Miss Busy was stressed out. She saw all the other mums at school who would tell her about how they did Pilates before the school run, how their houses were so neat and tidy all the time and how their children ate their veg and fruit and nutritional food without any bother, whilst to keep her life on track she had to write list after list. Little Miss Sunshine's twins were learning Chinese, whilst her children were fighting over a stick.
I think those of us who have done the school run for primary school-aged children will have seen these mum's who want to show the world that they are the best and that their lives run smoothly, while the rest of us have forgotten until the last minute about non-uniform day or world book day and you were supposed to make (or buy) a costume. How many of us have had to nip to the supermarket on the way to school to buy cakes for the cake fair that the children have only just reminded you about?
Little Miss Busy Surviving Motherhood is a book you can laugh along with and nod in agreement, we've all been there with the big ideas and then had to change the plans at the last minute because everything wasn't working out.
It is a fun take on the Mr Men and Little Miss books and the artwork is the same as the original books. There are more in the series and I can't wait to review them I just hope they are all as good as this book.
Book Reviewer – Stacey
---
Purchase online from:
---
What did you think of Little Miss Busy Surviving Motherhood? Share your thoughts in the comment section below!
---
The above links are affiliate links. I receive a very small percentage from each item you purchase via these link, which is at no extra cost to you. If you are thinking about purchasing the book, please think about using one of the links. All money received goes back into the blog and helps to keep it running. Thank you.
Like us on Facebook – Tweet us on Twitter – Pin us on Pinterest