The Art Fiasco by Fiona Veitch Smith – Book Review
The Art Fiasco by Fiona Veitch Smith – Book Review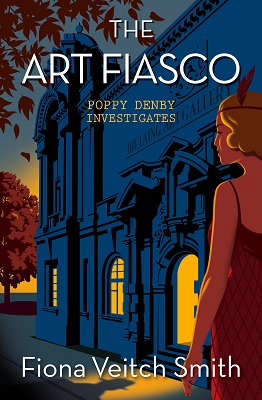 The Art Fiasco
Poppy Denby Investigates Book Five
Author – Fiona Veitch Smith
Publisher – Lion Fiction
Pages – 352
Release Date – 23rd October 2020
ISBN 13 – 978-1782643197
Format – ebook, paperback, audio
Review by – Stacey
Rating – 5 Stars
I received a free copy of this book.
This post contains affiliate links.


It's 1924 and Poppy Denby is heading up to Northumberland to celebrate her father's sixtieth birthday. She stops off in Newcastle en route to visit her Aunt Dot, who has temporarily relocated from London to renovate a house she's inherited. One of Aunt Dot's guests is the world-renowned artist, Agnes Robson, who is staging an exhibition at the Laing Art Gallery.
Reluctantly, Poppy is roped in to help when the artist's press liaison man falls ill. She soon discovers that the local press has dug up some dirt on Agnes relating to the tragic death of a young art teacher in Ashington Colliery, twenty-seven years earlier. As she tries to suppress the story, Poppy begins to suspect that the teacher might have been murdered and that the killer may still be on the loose…

Journalist Poppy Denby is back in the fifth book in the Poppy Denby Investigates series set in the 1920s. The book is set three years after book four finished, 'The Cairo Brief' and sees Poppy travelling from her home in London to her family's home in Northumberland to celebrate her dad's birthday.
On route Poppy stops at her Aunt Dot's house in Newcastle, which she is currently renovating with her partner Grace. Joining her at the home is her best friend and actress Delilah and artist Agnes Robson who is to open a gallery named after herself at her old school and running an exhibition at the Laing Art Gallery.
Poppy is supposed to be relaxing and on holiday but Agnes's aide has taken ill and Poppy is drafted in to help, though when tragedy strikes on the galleries opening night Poppy may be the only witness and she is determined to help the local police. Could the events have anything to do with the death of Agnes's old art teacher some twenty-seven-years earlier, as she has always been suspected of murdering him by the local community but no evidence of her involvement was uncovered?
The Art Fiasco opens with a chapter set in 1897 and a young fourteen-year-old Agnes Robson taking art lessons behind her family's back and the art teacher showing a little too much interest in the budding artist, the chapter ends with the teacher being found with his neck broken in the local pit. We then move on to 1924 and Poppy just arriving in Newcastle-upon-Tyne.
Having enjoyed the series from the very beginning it was great to carry on Poppy's story and welcome all the returning characters too. Poppy has certainly grown as a woman as she arrived in London quite naïve and not very confident taking on her first job. Poppy now with years under her belt of running the Arts and Entertainment column in The Daily Globe, and a bit of sleuthing on the side has become a mature, sophisticated young lady.
The book is very atmospheric and draws you into the time period. From the clothing to the transport and even the manners and speech of the characters you feel very much in the 1920s. Although there are other books set away from London in the series it was nice to see Poppy supposed to be having time to herself and not working covering stories, unfortunately, she is thrust right into one when she witnesses a violent death.
This is a series that I can't say keeps on getting better as all the books are amazing and enjoyable, it is a series that I can't wait to return to time and time again and look forward to joining Poppy on her many adventures. If you like female sleuths who are headstrong and mixes with suffragette icons then this is the book to pick up.
Book Reviewer – Stacey
---
Purchase online from:
---
About the Author

Fiona Veitch Smith is the author of the Poppy Denby Investigates novels, Golden Age-style murder mysteries set in the 1920s, about a reporter sleuth who works for a London tabloid. The first book in the series, The Jazz Files, was shortlisted for the CWA Historical Dagger, while subsequent books have been shortlisted for the Foreword Review Mystery Novel of the Year and the People's Book Prize.
She is formerly a journalist, having worked on the arts and crime beats of a Cape Town newspaper, and lectured in journalism in the UK for over a decade. She is currently the Deputy Editor of the CWA's Red Herrings Magazine.




---
What did you think of The Art Fiasco? Share your thoughts in the comment section below!
---
The above links are affiliate links. I receive a very small percentage from each item you purchase via these link, which is at no extra cost to you. If you are thinking about purchasing the book, please think about using one of the links. All money received goes back into the blog and helps to keep it running. Thank you.
Like us on Facebook – Tweet us on Twitter – Pin us on Pinterest