Dreaming of Florence by T.A. Williams – Book Review
Dreaming of Florence by T.A. Williams – Book Review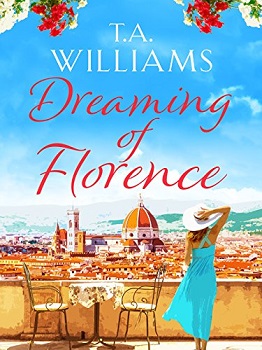 Dreaming of Florence
Author – T.A. Williams
Publisher – Canelo
Pages – 254
Released – 8th January 2018
Format – ebook
Reviewer – Stacey
Rating – 4.5 Stars
I received a free copy of this book
Post contains affiliate links
When Debbie Waterson's bicycle crashes into handsome doctor Pierluigi, she wonders if her luck has changed. Determinedly single after ending a long relationship, at last, a man worth bumping into!
Inspired to visit Florence, she soon runs headlong into that old foe: reality. But is Pierluigi the man of her dreams? Then there's her booze obsessed boss, his forbidding secretary and her noisy inconsiderate neighbours. But could her luck be about to change? Will she find love after all?

English teacher Debbie Waterson has had an obsession with Florence ever since missing out on a school trip to the city as a child. She often daydreams about the place, but has never visited, too scared that it won't live up to her expectations. Whilst once again riding her bike and dreaming about basking in the Italian sun, a man steps out in front of her, knocking them both to the ground.
Pierluigi, a doctor, apologies profusely and admits that it was his fault entirely. He offers to looks at her injuries, and then walks her home with her mangled bike.
Debbie thinks the doctor is rather dishy, and falls for him at breakneck speed when she discovers he's from Florence. He tells her she should go and visit the country as she won't be disappointed. In the end she bites the bullet and goes. She is so taken aback with the city that when an offer of redundancy comes up at work she decides to go and work there, it's now or never.
This is the first book by T.A. Williams that I have read. I've admired his books for a long time, but with a huge TBR list I've never actually gotten around to reading one, until now.
Open up the gorgeous cover and you will step into a delightful, heart-warming story which has been perfectly executed. The characters are a joy to spend time with, and that scenery is to die for. I've never been to Italy, but it felt like I was standing in the heart of Florence.
T.A. Williams has in essence written a 'Guide to Florence' hidden within a beautiful story. Not only do you get to visit the tourist areas, but he takes you to places off the beaten track and has you tasting divine food, and sipping delicious wines.
At the centre of Dreaming of Florence is a woman who took a chance on fulfilling her dream. Debbie for so long had wanted to follow her heart, but never had the courage. When the opportunity arose, and with a little push from her best friend, she took that chance. If this book teaches you one thing, it's to stop putting off following your dream, start living it before it's too late.
Reviewed by Stacey
---
Purchase online from:
---
About the Author

I live in Devon with my Italian wife. I was born in England of a Scottish mother and Welsh father. After a degree in modern languages at Nottingham University, I lived and worked in Switzerland, France and Italy, before returning to run one of the best-known language schools in the UK.
I have taught Arab princes, Brazilian beauty queens and Italian billionaires. I speak a number of languages and have travelled extensively. I have eaten snake, still-alive fish, and alligator. A Spanish dog, a Russian bug and a Korean parasite have done their best to eat me in return. My hobby is long-distance cycling, but my passion is writing.




---