The Wrath of the Woolington Wyrm by Karen Foxlee – Book Review
The Wrath of the Woolington Wyrm by Karen Foxlee – Book Review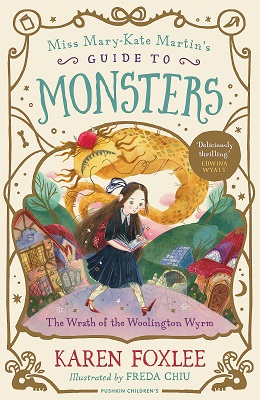 The Wrath of the Woolington Wyrm
Miss Mary-Kate Martin's Guide to Monsters
Author – Karen Foxlee
Illustrator – Freda Chiu
Publisher – Pushkin Children's Books
Release Date – 3rd August 2023
Pages – 288
ISBN 13 – 978-1782694137
Format – ebook, paperback, audio
Star Rating – 4.5 stars
I received a free copy of this book.
This post contains affiliate links.

Synopsis
There are those that hunt monsters to harm them and there are those that hunt monsters to help them. Which one are you?
Dressed in sparkly red shoes and carrying her strawberry-scented notebook, Mary-Kate accompanies her archaeologist mother to the quiet English countryside to investigate some unusual bones found in an old well.
But soon she realises that the village of Woolington is not as peaceful as it seems; the ground trembles beneath them, there are mysterious noises, and the locals are obsessed with a terrifying old legend.
Could there be any truth in the myth of the beast who lives in the ancient well? With the help of a new friend, Mary-Kate starts getting to the bottom of this monstrous mystery.
Young Mary-Kate has travelled with her professor of archaeology mother to a small village called Woollington in the countryside. Her mother has been requested to check out some old bones found in a well that was due to be concreted over to make way for a shopping centre.
When the pair arrive in Woolington, the village is deserted and there is a saucer of milk left on every doorstep. It isn't long before tales of the Wyrm of Woolington, a monster who likes to eat children, reach the pair and Mary-Kate decides to investigate whether there really is a monster or if there is something else at play in the village.
This middle-grade children's book is a great start to what looks set to be an intriguing and addictive new series of books featuring Mary-Kate, a young girl with severe anxiety issues and an intense hatred of the word 'slime' as she investigates monsters.
With her red-sparkly shoes, brown bow in her hair, and her notebook, Mary-Kate has questions (she has written with her glitter pens) and she needs answers.
The Wrath of the Woolington Wyrm is quite the page-turner. It is adventurous and has plenty of life lessons when it comes to monsters – 1 per chapter. The story of whether the Wyrm is a myth or not is surrounded by friendship, bravery, kindness, and unfortunately greed. There is also a delightful pony in the book called Pickles who is quite the character.
Overall, this is an exciting book. It may have plenty of monster talk within the pages but it isn't scary. The characters are fabulous and the case of the 'Wyrm' is good fun to follow.
---
Purchase Online:
Karen Foxlee

Karen Foxlee was born in Mount Isa, Australia. She trained and worked as a nurse before studying for a degree in creative writing at the University of the Sunshine Coast. She is the author of five books, including The Anatomy of Wings, which won the Commonwealth Writer's Prize for Best First Book in the South East Asia and South Pacific region, and the Carnegie Medal-longlisted Lenny's Book of Everything, which is also published by Pushkin Children's Books.
Author Links:
---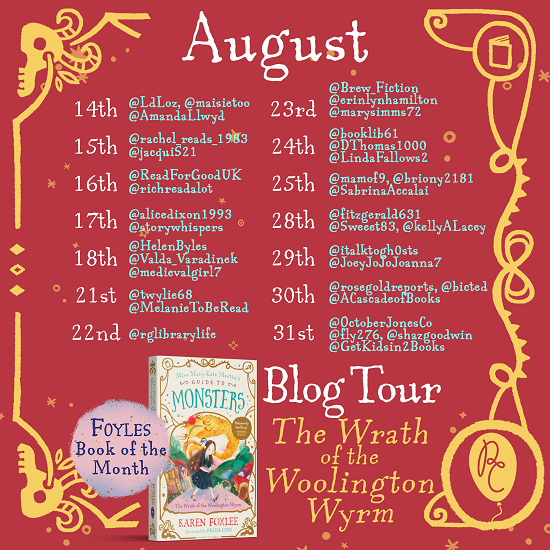 The above links are affiliate links. I receive a very small percentage from each item you purchase via these links, which is at no extra cost to you. If you are thinking about purchasing the book, please think about using one of the links. All money received goes back into the blog and helps to keep it running. Thank you.