Hockey Wars by Ben Jackson – Book Review
Hockey Wars by Ben Jackson – Book Review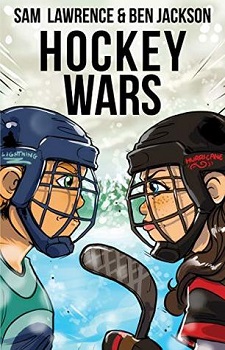 Hockey Wars
Author – Ben Jackson & Sam Lawrence
Publisher – Indie Publishing Group
Pages – 138
Released – 12th September 2018
ISBN-13 – 978-1988656243
Format – ebook, paperback, hardcover
Reviewer – Stacey
Rating – 4 Stars
I received a free copy of this book.
This post contains affiliate links.
When hockey and friendship collide!
An old friendship is pushed to its limits as Millie and Cameron face off against each other in a grudge match to finally see who's got the best hockey team in Dakota.
Millie and Cameron grew up as close as any two friends could be, playing together on the same hockey team and hanging out together after school. However, when the hockey team was split between boys and girls, their friendship began to change, and not for the better.
Now, Millie and Cameron are rivals, playing against each other to finally settle who has the best hockey team, boys or girls?
Millie and Cameron love ice hockey, they live and breath the sport. The used to be friends and on the same team. Now however there are two teams in the small village, Millie's all girls teams and Cameron's all boys team. There is one problem though, there is only one place to practice and they have to take it in turns.
When Millie turns up late for practice one evening Cameron tries to push his way onto the ice saying she has forfeited her teams turn. after an argument ensues the pair agree to settle things once and for all. They are to have a match against one another and the winning team gets the ice for the rest of the season.
The match causes strain amongst the once friends and their teammates. Is there a way to sort their issues out before they go too far?
Hockey Wars is the first book in a new series from husband and wife author team, Ben Jackson and Sam Lawrence. Being from the UK it's hard to think about kids getting so hyped up over ice hockey as it's not a sport often played here, but I suppose it's just like kids getting annoyed with one another if there was only one football pitch about and they had to share.
The book deals with compassion, friendships, and competition. Millie and Cameron are both stubborn and they make their teammates and friends choose sides over something which could have been settled easily and amicably had they been a little older and more experienced.
The book is complemented with some wonderful artwork which really brings the story to life and will make children more engaged with the plot. Hopefully, they will also learn that whilst its good to have rival teams, good sportsmanship behaviour is better and that sometimes you have to decide what is right and wrong for yourself.
An enjoyable book that covers a lot of information children need to learn about to grow as individuals.
Reviewed by Stacey
---
Purchase online from:
---
About the Author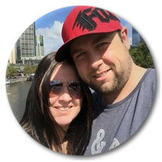 Ben and Sam currently live in Ontario, Canada.
Ben was born in Tasmania, Australia, while Sam was born in Toronto, Canada.
Between the two of them, they enjoy travelling frequently, and both have two children.
With three boys and one girl, they both enjoy spending quality time with their families, reading books, playing games and exploring both Canada and Australia.



---
The above links are affiliate links. I receive a very small percentage from each item you purchase via these link, which is at no extra cost to you. If you are thinking about purchasing the book, please think about using one of the links. All money received goes back into the blog and helps to keep it running. Thank you.
Blog posts straight to email via Bloglovin – Like us on Facebook – Follow us on Twitter