The HUG That Had To Hibernate by Danielle Corrigan – Book Review
The HUG That Had To Hibernate by Danielle Corrigan – Book Review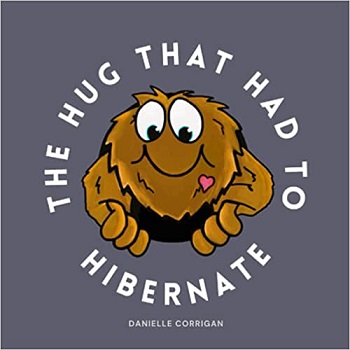 The HUG That Had To Hibernate
Author – Danielle Corrigan
Publisher – Book Bubble Press
Pages – 31
Released – 24th May 2021
ISBN-13 – 978-1912494323
Format – ebook, paperback
Rating – 5 Stars
I received a free copy of this book.
This post contains affiliate links.


Synopsis
A beautiful bedtime story for children to enjoy whilst remembering all the hugs they've ever shared.
HUG spends his days hugging. He gives out BIG hugs, BEAR hugs, GOODNIGHT hugs and everything in-between hugs, until one day when he's told hugs have to stop!
Feeling sad and lonely, HUG goes home to hibernate and whilst asleep he dreams of all the wonderful hugs he's ever shared.
Will HUG ever hug again?
Join HUG in this delightful, fun, rhyming story.
In this children's rhyming story we meet Hug who enjoys giving everyone cuddles. Long cuddles, short cuddles, big bear hugs, soft barely-there hugs. Hug just loved to embrace people and make them feel happy, loved, cared for, and safe.
One day it was announced that no one could Hug anymore and that left Hug very sad and lonely. What would he do now that no one could have a cuddle from him?
The HUG That Had To Hibernate is a very sweet story all about the power that a hug can give to someone. Whether a child has fallen over, is frightened, is upset, hugs always come in handy.
I loved the message behind the story and I presume what is a nod to the pandemic when people were told not to hug one another. This is an adorable tale that rhymed perfectly and will be a great comfort to children, you may even get a few cuddles from them after they have read it.
The illustrations are quite basic but it works as they don't take anything anyway from the text, yet the message comes across perfectly. I love Hugs big fluffy wrap-around arms that could hold you tight. I adored the tale, even if I don't like hugs myself and the only people who received them from me are my children. It is a magnificent book and another added to the ever-growing collection from Danielle Corrigan.
Purchase Online From:
---
What did you think of 'The HUG That Had To Hibernate'? Share your thoughts in the comment section below!
---
The above links are affiliate links. I receive a very small percentage from each item you purchase via these link, which is at no extra cost to you. If you are thinking about purchasing the book, please think about using one of the links. All money received goes back into the blog and helps to keep it running. Thank you.
Like us on Facebook – Tweet us on Twitter – Pin us on Pinterest – Join us on Instagram