The Wrong Side of Murder by Jeff Buick – Book Review
The Wrong Side of Murder by Jeff Buick – Book Review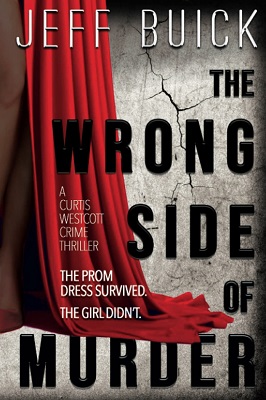 The Wrong Side of Murder
Curtis Westcott Book Two
Author – Jeff Buick
Publisher – Novel Words Inc
Pages – 368
Released – 18th July 2021
ISBN-13 – 978-1989727027
Format – ebook, paperback
Rating – 5 Stars
I received a free copy of this book.
This post contains affiliate links.


Synopsis
Prom night and Darina was having a great time – until someone killed her and stuffed her body in a wall.
Now, twenty years later, Boston homicide detective Aislinn Byrne is staring at her friend's dehydrated body, draped over a chunk of broken drywall. For two decades Aislinn wondered what happened to Darina – how and why she disappeared without a trace. Aislinn works the case hard, but it's a convoluted path to the truth. Darina's father, Alexi, was running organized crime rackets and was murdered six months before she went missing. The obvious question boils up to the surface – are the two murders connected – and if so, how?
Curtis Westcott, head of Boston Homicide, reopens Alexi's unsolved murder and that puts him head-to-head with a trifecta of powerful gangsters. It's a wall of silence, but Westcott gradually begins to peel back the layers. As he and Aislinn share information and both investigations move ahead, one thing becomes clear – the killer is still out there and watching their every move.
Jeff Buick's novel, The Wrong Side of Murder, starts with homicide detective, Aislinn Byre, at the top of the rotation for the next murder case. A body wrapped in polyethylene was found stuffed behind a sheetrock wall during a building renovation. After Miss Byrne arrived at the scene, the poly was cut away from the body. Aislinn almost fainted when she recognized the red dress and hair. Twenty years ago, she had spent the day with Darina Volkov and two other girls getting glammed up for the prom. Darina didn't make it to the prom and disappeared without a trace, never to be seen again . . . until now.
Aislinn's boss, Boston's Chief of Homicide, Curtis Westcott, was reluctant to assign the case to Byrne because of her close connection to the victim. But after she was cleared of involvement in the crime, he assigned the case to her, his best detective. Aislinn's dad was a retired cop as was the dad of one of the other girls Aislinn spent that fateful day with. Curtis knew both of the retired cops. Darina's dad was a gangster who had been murdered six months before that prom night. From the beginning, Aislinn sensed that the Darina's murder was somehow connected to her dad's murder.
What a great start to a novel. I was hooked when Aislinn identified the body in the first chapter. Working a case of a murder from twenty years ago was a complicated process and the author worked through it skilfully. The gangster angle turned the novel into a thriller as the murders kept adding up. The plot and great characters were developed masterfully and, in the end, the identity of the murderer was a shock. The editing was better than for most famous authors. The Wrong Side of Murder is another great read sent to me by Whispering Stories.
Purchase Online From:
---
What did you think of 'The Wrong Side of Murder'? Share your thoughts in the comment section below!
---
The above links are affiliate links. I receive a very small percentage from each item you purchase via these links, which is at no extra cost to you. If you are thinking about purchasing the book, please think about using one of the links. All money received goes back into the blog and helps to keep it running. Thank you.
Like us on Facebook – Tweet us on Twitter – Pin us on Pinterest – Join us on Instagram