The Plague Letters by V.L. Valentine – Book Review
The Plague Letters by V.L. Valentine – Book Review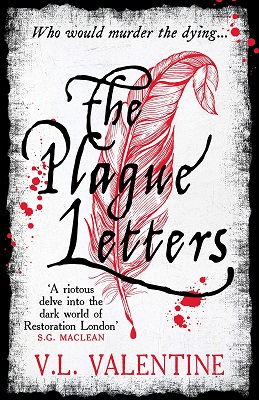 The Plague Letters
Author – V.L. Valentine
Publisher – Viper
Pages – 416
Released – 1st April 2021
ISBN-13 – 978-1788164535
Format – ebook, paperback, hardcover
Rating – 5 Stars
I received a free copy of this book.
This post contains affiliate links.


Synopsis
WHO WOULD MURDER THE DYING…
London, 1665. Hidden within the growing pile of corpses in his churchyard, Rector Symon Patrick discovers a victim of the pestilence unlike any he has seen before: a young woman with a shorn head, covered in burns, and with pieces of twine delicately tied around each wrist and ankle.
Desperate to discover the culprit, Symon joins a society of eccentric medical men who have gathered to find a cure for the plague. Someone is performing terrible experiments upon the dying, hiding their bodies amongst the hundreds that fill the death carts.
Only Penelope – a new and mysterious addition to Symon's household – may have the skill to find the killer. Far more than what she appears, she is already on the hunt. But the dark presence that enters the houses of the sick will not stop, and has no mercy…
Who better to write about a plague ravishing the world than someone with a master's in the history of medicine and works as a science editor covering infectious disease outbreaks. These stats should tell you how well researched and true to life this book is.
The year is 1665 and the Bubonic Plague is starting to gain traction and spread throughout London. As the bodies mount up it is up to Rector Symon Patrick to bless them before their bodies are buried. When his recently missing maid turns up with the plague bodies the Rector notices that she has had her arms and legs bound and that the plague wasn't the cause of her death.
As more bodies with similar markings show up the Rector realises that a murderer is walking amongst them who is trying to pass his victims off as plague victims. With the help of a young but well-educated girl Penelope who is found on the streets, can the pair work out who the killer is whilst staying free from the plague?
I wasn't sure when I first saw this book whether reading about a plague whilst we are in the middle of a global pandemic caused by a deadly virus would be a good idea, but there was something about someone murdering people and trying to pass their bodies off as plague victims that had me intrigued and so I jumped in. I'm so happy I did.
The Plague Letters is utterly engrossing. The beginning started slowly but when the maid's body is discovered my intrigue picked up as now we were on the hunt for a killer and I love a good historical thriller/mystery.
The writing is quite descriptive and at times this made the plot feel a little wordy, but without these descriptive scenes would you feel as immersed in the time period? I'm not so sure.
The characters are not the nicest of people, whether it was the era, the plague, living in fear, perhaps all of these made the characters quite rude and come across as obnoxious I'm not sure but I can't say there was really a nice character amongst them. Yes, they had their nice moments, but it wouldn't be long before they were back to being surly. They also had a dark, dry sense of humour, again most likely to do with what they were living through.
This is a novel that had me gripped to the pages. I read it within just a couple of days as I didn't want to put it down. The plot felt plausible, the characters realistic, and as a whole very atmospheric.
Purchase Online From:
---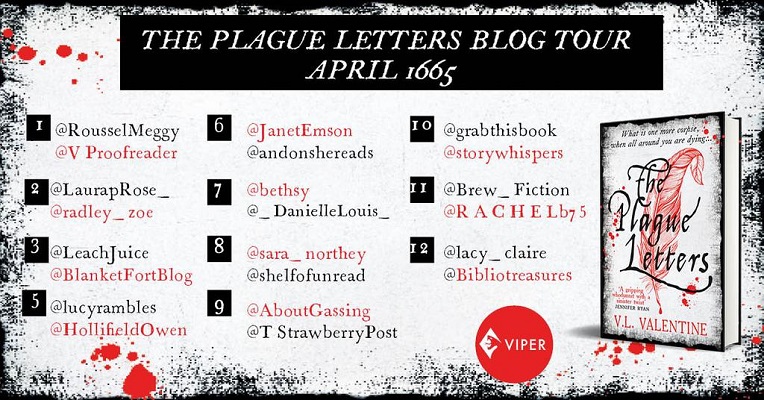 ---
What did you think of 'The Plague Letters'? Share your thoughts in the comment section below!
---
The above links are affiliate links. I receive a very small percentage from each item you purchase via these link, which is at no extra cost to you. If you are thinking about purchasing the book, please think about using one of the links. All money received goes back into the blog and helps to keep it running. Thank you.
Like us on Facebook – Tweet us on Twitter – Pin us on Pinterest – Join us on Instagram