A Walk by the Sea by Krisztina Csiki – Book Review
A Walk by the Sea by Krisztina Csiki – Book Review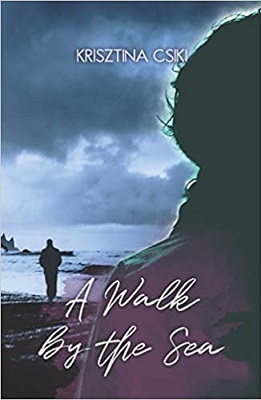 A Walk by the Sea
Author – Krisztina Csiki
Pages – 324
Released – 29th June 2020
ISBN-13 – 979-8656201247
Format – ebook, paperback
Rating – 3 Stars
I received a free copy of this book.
This post contains affiliate links.


Synopsis
Meriel leads a quiet life in a small seaside town, at a physical and emotional distance from her son Philip. When she encounters Samuel on the beach, her life changes completely.
Through her emotional metamorphosis, Meriel alters the lives of both young men. An artist. A mother. A woman. Can she be all? The choice is impossible and in trying to make up for lost time, she is bound to create havoc and hurt people, including herself.
Sixty-Eight-year-old Meriel lives by the sea in England. She loves to paint and likes to put her feelings down on canvas, expressing her life and things through colour.
Meriel has a grown-up son Philip who lives in America. He is currently having a tough time after losing his daughter in an accident and being left by his wife. He has never really had a relationship with his mum and carries a lot of resentment from a young age towards her.
Much to his and Meriel's surprise Philip offers to attend one of Meriel's gallery exhibits in the UK and decides it is time to visit his mum.
We also meet singer and pianist Samuel. He has a lot of stuff going on in his life and he just wants some peace where nobody will know him to regroup and think about what he wants from life and where to go next.
Meriel and Samuel's paths cross and there is an instant connection between them despite the massive age gap. Samuel also bumps into Philip but neither knows who the other is and they become friends, that is until the truth comes out and things take a destructive turn.
It took me a while to get into A Walk by the Sea and to engage with the characters as there are a lot of mysteries surrounding each of them.
I did not overly connect with any of them and at times the cast frustrated me in the way they behaved but I wanted to continue to see where each one would end up and where the story would take them.
I found the ending a little disappointing as I was left with a lot of unanswered questions, maybe there will be a sequel, or perhaps the author wanted us to be left like that and to make our own answers up?
The scenery and surroundings were very descriptive and I did enjoy visiting these through Meriel's art and her paintings. The sea and beach made for a good backdrop to the story and you could get lost in the smell of the sea air, the feel of the sand between your toes, and the sound of the crashing waves.
Purchase Online From:
---
What did you think of 'A Walk by the Sea'? Share your thoughts in the comment section below!
---
The above links are affiliate links. I receive a very small percentage from each item you purchase via these link, which is at no extra cost to you. If you are thinking about purchasing the book, please think about using one of the links. All money received goes back into the blog and helps to keep it running. Thank you.
Like us on Facebook – Tweet us on Twitter – Pin us on Pinterest – Join us on Instagram