Sockpuppet by Matthew Blakstad – Book Review
Sockpuppet by Matthew Blakstad – Book Review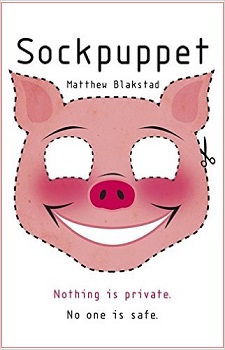 Sockpuppet
Author – Matthew Blakstad
Publisher – Hodder Paperbacks
Pages – 496
Release Date – 26th January 2017
ISBN-13 – 978-1473624740
Format – ebook, paperback, hardcover, audio
Reviewer – Stacey
I received a free copy of this book
Post Contains Affiliate Links

Twitter. Facebook. Whatsapp. Google Maps. Every day you share everything about yourself – where you go, what you eat, what you buy, what you think – online. Sometimes you do it on purpose. Usually you do it without even realizing it. At the end of the day, everything from your shoe-size to your credit limit is out there. Your greatest joys, your darkest moments. Your deepest secrets.
If someone wants to know everything about you, all they have to do is look.
But what happens when someone starts spilling state secrets? For politician Bethany Leherer and programmer Danielle Farr, that's not just an interesting thought-experiment. An online celebrity called sic_girl has started telling the world too much about Bethany and Dani, from their jobs and lives to their most intimate secrets. There's just one problem: sic_girl doesn't exist. She's an construct, a program used to test code. Now Dani and Bethany must race against the clock to find out who's controlling sic_girl and why… before she destroys the privacy of everyone in the UK.

It was minister Bethany Lehrer's job to oversea a new digital ID scheme set to be rolled out in the UK to every citizen. This unhackable, state of the art technology, along with Bethany and programmer Danielle (Dani) Farr, come under scrutiny when the test group start having their data stolen, and their web pages bring up dancing cartoon pigs, called 'giggly piggly'.
News of the hack has quickly spread on social media, seemingly via the account of someone called 'sic_girl'. Things however, become more complicated when it is revealed that sic_girl doesn't actually exist. The account is a computer algorithm. Both Bethany and Dani's careers are on the line. The pair need to find who is controlling sic_girl, and fast, before more classified information is shared with the world.
Sockpuppet is an original, smart, thrilling, book, set in the present day, and is bang up to date when it comes to modern day life. The book brings to the forefront just how much people use social media platforms, and also how quickly news travels via these platforms. It also makes you think about how whilst most people use it harmlessly, some use it for their own advantage, which can cause a vast amount of problems for others.
The book is filled with humour, and Dani has plenty of sarcasm to share, including some choice language. It has been expertly written and felt flawless, not surprising as the author has built a career in online communications.
The plot is scarily realistic, and is filled with strong characters, some complex, all enthralling. There are a lot of them, but I never found myself lost. There are also plenty of twists to keep you hooked.
I do feel that those who are not very computer savvy, or don't know anything about social media may struggle with this book. For those that do, this book will grab your attention and hold you to the pages, eager to keep on reading. It may even make you step away from your computer for a while.
As the final chapter comes to an end in Sockpuppet, you will be left impatiently awaiting for the next book in the series, Lucky Ghost, which is to be released in July 2017.
Book Reviewed by Stacey
Purchase Links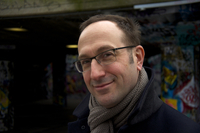 My first career was as a professional child actor. From the age of ten, I had roles in TV dramas on the BBC and ITV, in films and at theatres including the Royal Court. After graduating from Oxford with a degree in Mathematics and Philosophy, I began a career in online communications, consulting for a range of clients from the BBC to major banks.
Since 2008, I've been in public service, using my communication skills to help people understand and manage their money.
Author Links