The Inquiry by Will Caine – Book Review
The Inquiry by Will Caine – Book Review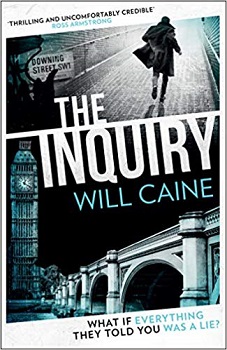 The Inquiry
Author – Will Caine
Publisher – HQ
Pages – 384
Released – 21st March 2019
ISBN-13 – 978-0008325619
Format – ebook, paperback, hardcover, audio
Reviewer – Clive
Rating – 4 Stars
I received a free copy of this book.
This post contains affiliate links.
You must not use police or intelligence services to carry out your investigation. Those channels are compromised.
A final warning: you must move fast.'
Former MP Francis Morahan swore never to return to politics. But when he's asked to chair a government inquiry into the intelligence agencies' record against terror, it's clear that it's an order from the top – not a request.
Sara Shah once teetered on the edge of a dangerous circle. Now a lawyer in a prestigious London firm, she's put her past behind her. Until a letter delivered by hand summons her to join the Morahan Inquiry.
Duty-bound, Sara accepts. Armed only with a list of names, dodging her one-time connection to the networks she infiltrates, she finds herself led by an anonymous source into the darkest corners of post-9/11 Britain.
What, or who, was the weapon at the heart of British terror?
IT IS A SECRET SOME WILL STOP AT NOTHING TO KEEP HIDDEN.

I don't know too much about Will Caine other than that he has worked as an investigative journalist and film maker. He has used this background to good effect in writing The Inquiry, his first published novel.
Using well known terrorist events he has woven together a complex yet plausible storyline of jihadist threats and the UK's counter terrorist activities. On the face of it, the intelligence agencies had been extremely successful for a number of years until a series of attacks in recent years. The Morahan Inquiry's brief was to find out why.
In my opinion Caine has created a great lead character in Sara Shah. Young, professional and a devout Muslim she is very different the stereo-typical protagonists one finds in so many UK
espionage thrillers. I will not go into detail but as expected her activities take her well beyond the skill set desired of a lead counsel in a government inquiry. She is supported at times by Patrick, a fellow lawyer well equipped to provide some useful muscle when required. He contrasts and complements Sara by being what the author describes as "… tall and thin. And black. Unequivocally black." Like most of the other inquiry team members he appears to have his own motivations and secrets.
Considering how dry government inquiries generally are Will Caine has found a lot of lively action within his plot which rattles along at a pace. This is all helped by a simple to read writing style and fairly short chapters.
The Inquiry covers a number of concerns that most Western residents have about terrorist actions by jihadists groups and Caine provides detail which has helped me to understand what lies behind this activity.
The book left me with two questions: should Sara be getting so involved and are all the twists and turns totally credible? The answers to both questions are probably not but it all makes for a good story which certainly keeps the pages turning. Will we hear more about Sara Shah? I hope so. I have awarded The Inquiry four stars.
Book Reviewer – Clive
---
Purchase online from:
---
About the Author
Will Caine is an investigative filmmaker, historian and novelist. His debut novel, The Inquiry, is a political thriller set in post 9/11 Britain and follows a former MP, now senior judge, asked to conduct an inquiry into the intelligence agencies' record against Islamist terror. He recruits a young lawyer, Sara Shah, to carry out an investigation which pitches her into a terrifying hunt for the dark genius manipulating a secret war.
Caine's television work as a BAFTA-winning producer, director and writer began in the violence of Northern Ireland and took him to trouble spots such as Beirut, Guatemala and apartheid South Africa. He has long experience of digging into the secrets of states, both Britain and beyond, and applies this inside knowledge to 'The Inquiry' with devastating effect.
---
What did you think of the book? Share your thoughts in the comment section below!
---
The above links are affiliate links. I receive a very small percentage from each item you purchase via these link, which is at no extra cost to you. If you are thinking about purchasing the book, please think about using one of the links. All money received goes back into the blog and helps to keep it running. Thank you.