The Devil Upstairs by Anthony O'Neill – Book Review
The Devil Upstairs by Anthony O'Neill – Book Review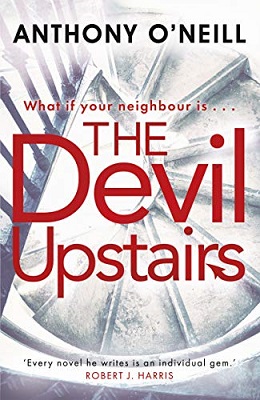 The Devil Upstairs
Author – Anthony O'Neill
Publisher – Black & White Publishing
Pages – 304
Release Date – 5th September 2019
ISBN 13 – 978-1785302619
Format – ebook, hardcover
Review by – Cara
Rating – 3.5 Stars
I received a free copy of this book.
This post contains affiliate links.
In a quiet corner of Edinburgh, Cat Thomas is going through hell.
She's tried everything. He respects nothing.
If your neighbour was making your life hell … Would you call upon the devil?
Cat Thomas, a brilliant fraud investigator, has just relocated from Florida to a dreamy flat in historic Edinburgh. Everything seems perfect. Everything seems serene. Except for the unbelievably noisy wannabe rockstar upstairs.
Soon Cat's blissful new life is in ruins. Desperate, she's willing to try anything. When all else fails, she makes an appeal … to Satan.
And suddenly everything is eerily quiet. But her nightmare has only just begun …

Have you ever hated someone so much that you have spent nights just imagining ways for them to die? That's what Cat has been doing.
She moved to Edinburgh to start a new life, a peaceful life, but the tenant upstairs just won't allow it. Fed up of the lack of sleep and thoughtlessness of said tenant, Cat finds herself asking for help from an unexpected source. She soon learns that by doing so, it has some very dangerous consequences.
The Devil Upstairs follows fraud investigator Cat as she adjusts to her new life in Scotland and the aftermath of her interactions with some satanic followers. The story is fun and easy to read and kept me thoroughly entertained from start to finish.
All the characters were very likeable and I found myself wanting to see a happy outcome for each of them.
The only thing I found slightly frustrating is when a character was answering a question they never seemed to provide a straight answer just beat about the bush for a while, think a politician trying to avoid answering a question. Other than that it was enjoyable.
I finished The Devil Upstairs within a couple of days and I was left with no unanswered questions and found it to have a nice little twist too.
I enjoyed the writing style, pace, and the plot so much I would happily read more books from this author. A nice thriller that was certainly different from the norm.
Book Reviewer – Cara
---
Purchase online from:
---
About the Author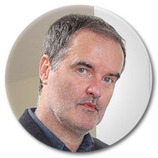 Anthony O'Neill is the son of an Irish policeman and an Australian stenographer. He was born in Melbourne and lives in Edinburgh.
He is the author of Scheherazade, a revisionist Arabian Nights epic; The Lamplighter, a psychological horror novel set in Victorian Scotland; The Empire of Eternity, a history-mystery involving Napoleon Bonaparte and the early years of Egyptology; The Unscratchables, a Swiftian satire featuring dog and cat detectives; and The Dark Side, a crime novel set on the far side of the moon.
Film rights to The Dark Side have recently been purchased by 20th Century Fox for development by Oscar-winning screenwriter Steven Zaillian.
You can find out more about Anthony O'Neill by visiting the website/social media sites below.


---
What did you think of The Devil Upstairs? Share your thoughts in the comment section below!
---
The above links are affiliate links. I receive a very small percentage from each item you purchase via these link, which is at no extra cost to you. If you are thinking about purchasing the book, please think about using one of the links. All money received goes back into the blog and helps to keep it running. Thank you.