The Ocean at the End of the Lane by Neil Gaiman – Book Review
The Ocean at the End of the Lane by Neil Gaiman – Book Review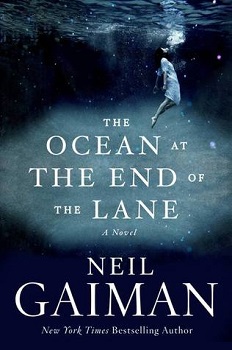 The Ocean at the End of the Lane
A Novel
Author – Neil Gaiman
Publisher – Headline
Pages – 258
Release Date – 18th June 2013
Format – ebook, paperback, audio
Rating – 5 stars
Reviewer – Stacey
I received a free copy of this book
Post Contains Affiliate Links

Sussex, England. A middle-aged man returns to his childhood home to attend a funeral. Although the house he lived in is long gone, he is drawn to the farm at the end of the road, where, when he was seven, he encountered a most remarkable girl, Lettie Hempstock, and her mother and grandmother.
He hasn't thought of Lettie in decades, and yet as he sits by the pond (a pond that she'd claimed was an ocean) behind the ramshackle old farmhouse, the unremembered past comes flooding back. And it is a past too strange, too frightening, too dangerous to have happened to anyone, let alone a small boy.
Forty years ago when the family lodger stole their car and committed suicide in it, stirring up ancient powers best left undisturbed. Dark creatures from beyond the world are on the loose, and it will take everything our narrator has just to stay alive: there is primal horror here, and menace unleashed – within his family and from the forces that have gathered to destroy it.
His only defence is three women, on a farm at the end of the lane. The youngest of them claims that her duckpond is an ocean. The oldest can remember the Big Bang.

I've known about Neil Gaiman's work for a very long time, but have never actually read any, so when I was asked if I would review The Ocean at the End of the Lane I didn't need to think it over. I quickly accepted.
The book opens with a middle-aged man returning to his childhood village for a funeral. On driving through, he comes across a house that catches his eye. The house was the home of a dear friend that he had long forgotten about, Lettie Hempstock, who lived there with her mum and grandmother. It was also the house that had the big pond, or as Lettie called it, 'ocean', to the rear of the property.
The man is drawn to the house and goes for a closer look, knocking to see if the Hempstock's still live there. On entering he is overwhelmed by visions that bring him memories of being a seven year old child to the forefront. Memories that he has suppressed until now.
This is the story of the man's childhood, told through the eyes of his seven year old self.
What hits you first about this book is how imaginative and intuitive the plot is. Gaiman takes you on an engaging exploration of this young boy's less than normal childhood. A childhood that as an adult, he seems to have blocked out, and together, you get to witness why. The creative skills of the author flood the pages and keep you tethered to the heart of the boy.
The story is often dark and chilling, yet at times is warm and embracing, especially where Lettie and the boy (who is never named) are concerned. They deeply care for one another, and Lettie will do anything to keep him safe in the strange and supernatural world that he finds himself in.
It's hard to place this book in to a particular genre as it has a mixture of mystery, thriller, mild horror, sci fi, paranormal, mystical, fantasy and is like a fairy tale for adults. It also at times reads like a YA book, whilst at others is very definitely a book for adults.
It is a short read at only 258 pages. However, even though it is short, Gaiman doesn't substitute quantity for quality. He simply embraces both of them, allowing us as readers to absorb the rich plot, slowly devouring every page.
The Ocean at the End of the Lane is a book that is a reminder to us all that childhood events shape us as adults, and shows you how as adults we follow, whilst as children we explore. It is also a book that you will keep in your heart, long after you have turned the final page.
Book reviewed by Stacey
Purchase Links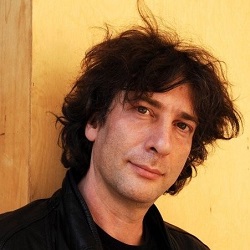 Neil Gaiman was born in Hampshire, UK, and now lives in the United States near Minneapolis. Gaiman began his writing career in England as a journalist.
His first book was a Duran Duran biography that took him three months to write, and his second was a biography of Douglas Adams, Don't Panic: The Official Hitch Hiker's Guide to the Galaxy Companion.
Neil is credited with being one of the creators of modern comics, as well as an author whose work crosses genres and reaches audiences of all ages. He is listed in the Dictionary of Literary Biography as one of the top ten living post-modern writers and is a prolific creator of works of prose, poetry, film, journalism, comics, song lyrics, and drama.
Gaiman wrote the screenplay for the original BBC TV series of Neverwhere (1996); Dave McKean's first feature film, Mirrormask (2005), for the Jim Henson Company; and co-wrote the script to Robert Zemeckis's Beowulf. He produced Stardust, Matthew Vaughn's film based on Gaiman's book by the same name.
Author Links