Fall, Leaves, Fall by Mike Driver – Book Review
Fall, Leaves, Fall by Mike Driver – Book Review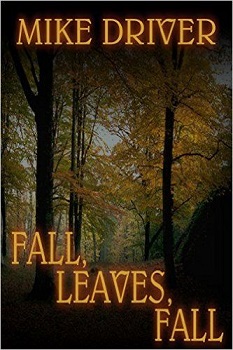 Fall, Leaves, Fall
Author – Mike Driver
Pages – 270
Release Date – 29th August 2014
Format – ebook
Rating – 5 stars
Reviewer – Julie
I received a free copy of this book
Post Contains Affiliate Links

It's 1998 and James Bridge has returned to his hometown twenty years after the apparent murder and disappearance of his childhood friend.
However, Bridge soon finds himself an outsider in a community he once regarded as his own, forced to confront his past and that of his former friends as the killings begin again.

'Fall, Leaves, Fall' is the debut full-length novel by British author Mike Driver and is written in the first person. The action switches between 1998 and twenty years earlier when the main protagonist, James Bridge, is twelve years old.
The cover design reflects the title and as the book develops, the significance of both become apparent.
The structure is tight and the pace even throughout. The free-flowing writing style is very easy to read and the author has used many literary devices including humour, similes, metaphors and irony to build a vivid backdrop for his plot.
The characters are diverse and three dimensional and Driver has given the main protagonist some strong foils to move the tale along. I think many readers will identify with aspects of the story, particularly when Bridge moves back to the parental home. "Three days. Just three days and I was ready to take a life; possibly my own."
We are transported to Bridge's grandmother's house with its dated décor and then to Marshall's Bar with its high chrome and leather bar stools. There are references to 'Newsnight' and a BBC outside broadcasting van which firmly establish the setting in England with the grammar and spelling also being British-English. It was therefore a little surprised to see the American term 'bangs' when referring to a someone's fringe and a character visiting the 'bathroom' in a pub. However, I would like to thank the author for giving me a new word, 'homunculus' with which I was unfamiliar.
The descriptive passages of the town of Cletherwood create a clever contrast to the menace and macabre undertones which increase as the story unfolds and the killings begin again. Bridge has to face up to his own demons and examine emotions he thought were long buried.
The overriding themes are redemption, justice and closure as Bridge struggles to make sense of what's happening and solve a puzzle dating back twenty years.
If you enjoy a good murder mystery with a degree of the supernatural, Fall, Leaves, Fall by Mike Driver is definitely the book for you. I found it extremely enjoyable and a definite page-turner. Driver is an accomplished author and has delivered an excellent story. He has set a high stand for his next book and I hope to get the chance to review it. I wavered between four-and-a-half and five stars but for the overall concept, structure and strength of the plot, I finally decided that 'Fall, Leaves Fall' deserves the higher award.
Book reviewed by Julie
Purchase Links

Mike Driver lives in Yorkshire, England. His publication history consists of 40 published short stories scattered across print magazines, online titles and anthologies around the horror fiction globe.
His latest fiction can be found in the February 2016 issue of Trysts of Fate and in the forthcoming anthology Haunted by the Past from Tacitus Publishing.
His debut novel "Fall, Leaves, Fall" is available on Kindle alongside his two short story collections, Box of Bones and Midnight's Gate. The second book in the Cletherwood Trilogy will be available in mid-2016.
Author Links