Tongue Twisters For Girls by Honeysuckle Hale – Book Review
Tongue Twisters For Girls by Honeysuckle Hale – Book Review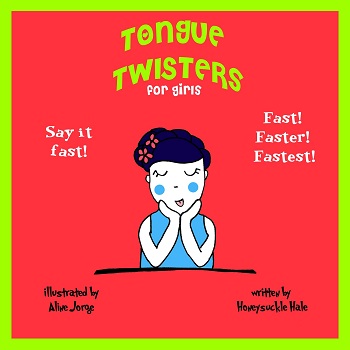 Tongue Twisters For Girls
Author – Honeysuckle Hale
Pages – 58
Release Date – 6th February 2016
Format – ebook
Rating – 3 stars
Reviewer – Sharon
I received a free copy of this book
Post Contains Affiliate Links

Say this the fastest! – "Willow wound the winding windmill real well."
Can your brain handle the twisty, turvy – swirly, twirly and more flubberty jumbling of your tongue?
Join a porcupine, fairies and a cartwheeling kitten on this tongue twistering reading adventure!
Tongue twisters are a fun and independently gratifying reading tool for children to learn word structure, word sound and word retention through repetition.
Madeline-esque illustrations accompany young readers as they go through oh-so-fanciful phrases, whimsical sentences and rhythmic jaunts for hours of giggling stand-alone fun!

I tried Tongue Twisters For Girls with my ten year old daughter. We had a competition between us to see who could say the tongue twisters the fastest and I think she won all of them!
Tongue Twisters For Girls is bright and colourful with bold illustrations on each page which will attract a child's attention. There is one tongue twister on each page.
Together we had a great fun trying out these Tongue Twister rhymes, but I do not feel that it is a book that we would return to. Some of them are really challenging and funny and I am sure that it would appeal to younger children who would want to try out the rhymes over and over again.
Book Reviewed by Sharon
Purchase Links

Born in Kansas near the yellow brick road in the land of tornadoes, and lassoed the tail of a gust into the Windy City, where I currently reside.
Author Links
Let us know in the comment box below what you thought of the book.