Be First or Be Dead by Nik Krasno – Book Review
Be First or Be Dead by Nik Krasno – Book Review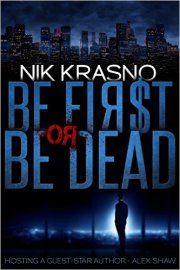 Be First or Be Dead
Oligarch Series Book 3
Author – Nik Krasno
Publisher – Neplokho Publishing
Pages – 322
Release Date – 29th May 2016
Format – ebook, paperback
Rating – 3 stars
Reviewer – Clive
I received a free copy of this book
Post Contains Affiliate Links

Michael, the Oligarch, has dealt with most of his enemies in his own harsh way, and with the help of an unexpected and mysterious ally, fulfilled his long-coveted ambition of topping Forbes billionaires list. Rich, still young and victorious, Michael knows how to indulge in all the pleasures this world can offer.
However, those who have helped him have their own plans, where Michael's and his country's role is very different from his expectations. Soon enough, he finds out that those who really dominate the global economy rule illicitly and stay away from public eye. He needs to confront the ancient cabal in order to survive and to save his country…
Be prepared for a transgressive, radical, uncompromising, grotesque, action-packed and philosophical read.
Not for weak hearts and tender souls!

Thank you to Nik Krasno for personally sending me a copy of this book following my reviews of the two previous volumes.
Be First or Be Dead continues the story of Mikhail Voratavich and if you enjoyed Mortal Showdown you will probably like Be First or Be Dead as it continues the themes of financial and political dealing told in Krasno's gutsy style. As with the previous book the lead character moves from country to country in an effort to save not only his fortune but his life.
Krasno's first novel Rise of an Oligarch was a brilliant book but sadly I feel that the quality is diminishing as the series continues. Be First or Be Dead has a thin underlying story acted out through a series of violent scenes which increase in scale and are not always believable. There are occasions when Krasno appears to conjure up characters and props from nowhere to resolve a situation. As with the previous books there are frequent tales of debauchery which have very little connection with the plot.
Rather oddly the book contains a chapter written by a guest writer Alex Shaw, a British thriller author who has worked in Kiev and the book also makes reference to one of Shaw's characters Aidan Snow. I cannot see that this adds anything to the book other than a bit of co-promotion.
The plot is resolved in the final chapter and we are then left on a cliff hanger which suggests that there could be more in the series. Would that be a good thing? Krasno can tell a good tale but maybe it is time for a new one.
Because of the repeated violence and the slender plot I struggled to finish the book. As a result I can only award Be First or Be Dead three stars.
Book Reviewed by Clive
Purchase Links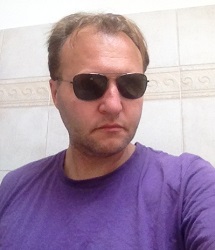 Nik Krasno is one of those writers who never thought he would end up authoring a book. He just knew that he had a story that apparently waited for the right moment to break out.
For many years Nik had been involved in law and business in few Eastern European countries, spending most of his time in Ukraine.
Witnessing the meteoric rise of a small number of individuals from modest citizens to mighty billionaires, Nik felt compelled to expose to the world the unique phenomenon taking place in this less familiar part of the globe. In the fictional plot of his Oligarch series he combines real and imaginary events with some 'lawyers' folklore' and known corruption and criminal schemes customary for Ukraine and other former USSR republics.
The author also shares some insight into the glorious and simultaneously tragic events of 2013 uprising in Ukraine resulting in ousting of the president, ensuing Russian aggression in Crimea and tensions and war in the Eastern regions of Ukraine. The imaginary characters are designed to reflect real behavior and mentality and provide decent entertainment for the readers.
Remember movies based on Bill Gates' and Mark Zuckerberg's biographies describing their path to wealth and glory? Although they were truly amazing, Nik thinks the rise of their Eastern billionaire peers is just a little more thrilling and unorthodox.
Author Link