The Last Road Home by Danny Johnson – Book Review
The Last Road Home by Danny Johnson – Book Review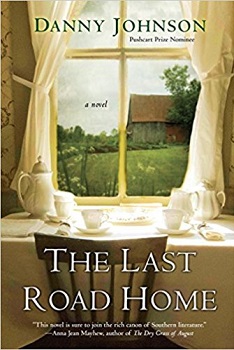 The Last Road Home
Author – Danny Johnson
Publisher – Kensington Publishing
Pages – 304
Released – 26th July 2016
ISBN-13 – 978-1496702494
Format – ebook, paperback
Reviewer – Clive
Rating – 5 Stars
I received a free copy of this book
Post contains affiliate links
From Pushcart Prize nominee Danny Johnson comes a powerful, lyrical debut novel that explores race relations, first love, and coming-of-age in North Carolina in the 1950s and '60s.
At eight years old, Raeford "Junebug" Hurley has known more than his share of hard lessons. After the sudden death of his parents, he goes to live with his grandparents on a farm surrounded by tobacco fields and lonesome woods. There he meets Fancy Stroud and her twin brother, Lightning, the children of black sharecroppers on a neighboring farm. As years pass, the friendship between Junebug and bright, compassionate Fancy takes on a deeper intensity. Junebug, aware of all the ways in which he and Fancy are more alike than different, habitually bucks against the casual bigotry that surrounds them–dangerous in a community ruled by the Klan.
On the brink of adulthood, Junebug is drawn into a moneymaking scheme that goes awry–and leaves him with a dark secret he must keep from those he loves. And as Fancy, tired of saying yes'um and living scared, tries to find her place in the world, Junebug embarks on a journey that will take him through loss and war toward a hard-won understanding.
At once tender and unflinching, The Last Road Home delves deep into the gritty, violent realities of the South's turbulent past, yet evokes the universal hunger for belonging.

In The Last Road Home Danny Johnson has produced something very close to a masterpiece. Within 310 pages we have history, romance, family love and psychology. The book is extremely easy to read with short chapters that encourage you to read on. Told in the first person and with a limited number of strong characters, the plots are very easy to follow.
This is a powerful tale which touches so many senses. It covers some tough subjects including racial inequality, alcohol abuse, drug supply and the Vietnam War; all with a no-holds-barred approach. At times, the descriptions of sex and violence are rather graphic but probably necessary for the story.
Given that the book is set around one hundred years after the United States abolished slavery, and in my own lifetime, I was initially surprised at the level of segregation, abuse and bigotry against the black people of North Carolina. Then I recalled hearing stories of the members of the band Booker T and the MGs having to stay in separate hotels while on tour. I am also minded that there are currently millions of people in today's world that are slaves in all but name.
As a veteran of the Vietnam War, Danny Johnson is ideally positioned to use his personal observations and I was impressed by the contrasting ways that he and his two close colleagues handled the mental strains of their extremely challenging role in that conflict.
But do not get too downhearted, as The Last Road Home is not all doom and gloom. I enjoyed the descriptions of life on a small farm in the 1950's and 60's where a mule still provided most of the heavy transport.  Johnson also gives us wonderful touches of family affection, comradeship and of course, Junebug's sisterly friendship and subsequent romance with Fancy. (I always say I don't enjoy romance but.…)
I am aware that Danny Johnson has had a number of short stories published but so far this appears to be his only full length novel. I look forward to more and have awarded The Last Road Home five stars.
Reviewed by Clive
---
Purchase online from:
---
About the Author

Danny Johnson's writing follows the tradition of Southern authors whose characters most often represent the disenfranchised in society, examining their struggles to overcome in a world that does not acknowledge them to be of value nor recognize their humanity.
Johnson is a member of The North Carolina Writer's Network and has worked with such authors as Ron Rash, Lynn York, Nancy Bartholomew, and John Gregory Brown. In the spring of 2014, he served as fiction judge for the Weymouth Center for Arts and Humanities.
His stories have appeared in Fox Chase Review, Remembrances of Wars Past Anthology, South Writ Large, Sheepshead Review, A Southern Journal, The Camel Saloon, and Main Street Rag's Best of Raleigh Reading Series, among others. He has been nominated for a Pushcart Prize in short fiction, his short story Dancing with My Shadow was judged by Writer's Digest as one of the 100 best in 2012, and he was a quarter-finalist in Amazon's Breakthrough Novel Contest in 2013.
Johnson is a Vietnam Veteran and recipient of the USAF Distinguished Flying Cross.



---