The Writing Life of: Brindy Wilcox
Brindy Wilcox
This week on 'The Writing Life of:' I am thrilled to be interviewing author Brindy Wilcox. Brindy will be sharing with us detail of her writing life, telling us all about her latest book, 'Through Time To London', which was released on 10th September 2016, and answering a few fun questions too. Post contains affiliate links.
So without further ado I'll hand you over to Brindy Wilcox.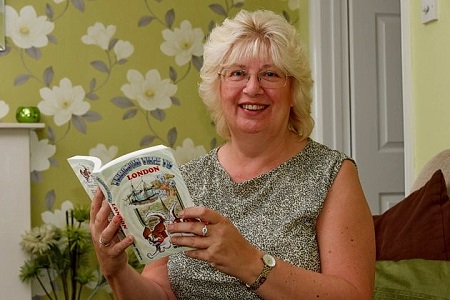 Born Jacqueline Lessels in North Yorkshire in 1958, my love of books started at an early age. If asked about favourite books I have read throughout my years, certain books always spring to mind from my childhood; Hilaire Belloc's Cautionary Tales, The Swish of the Curtain by Pamela Brown and, of course, the adventures of The Famous Five and The Secret Seven by Enid Blyton.
Another childhood memory is of Rusty, our very lovable Red Setter dog, I would spend hours sitting with him telling him stories. So, it seems inevitable that, when I decided to write my first novel, it would be about adventurous dogs.
Although I had a long career in Accountancy it was a long-held ambition to write a children's novel. Following a car accident in 2012 when they discovered I had a heart condition that was fortunately remedied with a pacemaker, I decided if I was ever going to write my novel I had better get on with it. I found the inspiration for my story from my two Cavalier King Charles spaniels, Brandy & Brinkley, who loved their outings.
I had the idea to incorporate actual historical events as a background due to my new found interest in UK history. Research is a crucial part of my writing to ensure the novel is as historically accurate as possible.
I decided to write under a pseudonym after years of spelling and pronouncing my name to everyone.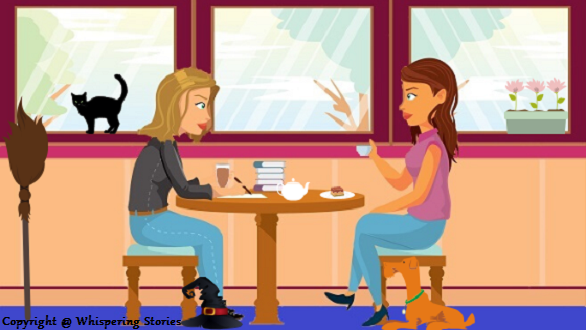 1) As a child what did you want to do when you grew up?
I wanted to be a ballerina. I took tap dancing classes as a child and passed a few exams. I even took part in stage shows, but I was very tall as a child and wasn't considered right for ballet, so it wasn't to be.
2) Who were your favourite childhood authors?
That's an easy one, Enid Blyton. I used to love the Brer Rabbit stories and then Malory Towers, Secret Seven & Famous Five.
My favourite book from my childhood was The Swish of the Blue Curtain by Pamela Brown – a story of children wanting to bring a theatre stage back to life and put on a show. Oh, and Hilaire Belloc's Cautionary Tales – I read them so much I could recite them all. I still like to read them from time to time.
3) At what point in your life did you realise you wanted to be a writer?
I remember the start of the dream very well. In my first marriage my name was Jacqueline Wilson, and I remember vividly walking into a branch of W H Smiths and seeing a huge display of Jacqueline Wilson books and thought – I'd really like to have that with a book I've written. Then life got in the way and nothing more happened.
4) How did you go about following that dream?
I started blogging several years ago when I moved to Spain as a way of letting family and friends keep up with how we were getting on, and people enjoyed it and started encouraging me to write a book. I had a story in mind and didn't do much about it. Then in 2012 I was diagnosed with a heart condition, which fortunately was fixed by having a pacemaker implanted, but it made me realise that you never know what's around the corner and that if I was ever going to write a book I better get on with it.
5) What is your writing day like? Do you aim for a certain amount of pages or words before you stop for the day?
I still work full-time, so my writing day happens in the late evenings, when everyone else has gone to bed and the house is quiet. Fortunately, I don't need as much sleep as others. I do a lot of research and plan my story out before writing. When I start to write I normally write a complete chapter, I don't like leaving a chapter half finished, but I don't worry about word count, the chapter is as long as it needs to be.
6) Did you ever consider writing under a pseudonym?
I write under the pseudonym Brindy Wilcox for my children's novels. Brindy is a name I've used for several years online, so it made sense to keep it for my writing world. My mum died when I was young, so I used her maiden name as a way of including her in my book journey.
7) Do you have any strange habits before starting, or whilst in the midst of writing?
Not really, although others may say differently.
8) Do you write longhand, typewriter, or on a computer?
I plan by hand using a large A3 artist pad, but when I write I use a computer. Mainly due to having arthritis in my hands which makes holding a pen for any length of time painful. My handwriting is dreadful now, although I always liked my writing when I was younger, it was very rounded and very loopy and my ex-husband said it looked nice but was difficult to read.
9) How many books have you written? Do you have any unpublished work?
I've just one completed book at the moment, which I self-published in September 2016. I am part way through writing the 2nd in the series, which I'm hoping to publish this summer.
10) Are you a plotter or a pantser?
I'm definitely a plotter, I need to know the key events of the story and the ending, to know where I need to end up. The story can meander on its own as I write it, but I keep the main parts in mind all the time. I write against a particular historical period or event, so the plotting is essential to keep me on track.
11) Do you read all the reviews left for your book(s)?
I do read the reviews and, so far, I am fortunate not to have had anything too negative, but I do work on the basis that not everyone that reads my book will like it and as long as some do, I'm a happy lady.
Concerning your latest book: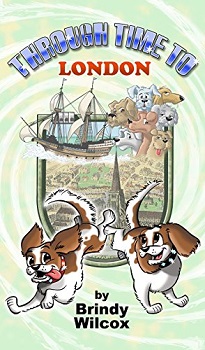 Through Time To London
Author – Brindy Wilcox
Publisher – Jacqui Lessels
Pages – 270
Release Date – 13th September 2016
ISBN 13 – 978-0995538207
Format – ebook, paperback

What started as a normal day for Brandy & Brinkley changed beyond anything they dreamed of when Jed visited. The two spaniels were used to having little adventures every time they left the house, but nothing prepared them for that morning.
1665 London was a dangerous place for dogs, so when the two brothers found themselves suddenly in the middle of the plague-ridden city it was a race against time to escape the clutches of the street dogs, the perils of the rats and the dangers of the dogcatchers.
Would they be able to survive in their new surroundings and would they be able to find their way back to the safety of their own home?
Through Time to London is the first in a series that follows the adventures of Brandy and Brinkley, two time-travelling Cavalier Spaniels, who are met with new challenges in their search for the way home.
12) How long did it take you to get from the idea's stage to your date of publication?
It took longer than it should have, but that was due to an unexpected divorce happening when I was close to finishing the first draft. I took a year off to deal with that and then got back on track and finished it – so, if I take that year out of the time frame it took about 18 months.
13) How did you come up with the names for your characters?
The 2 main characters, Brandy & Brinkley, were my dogs – so that was easy. I then needed names for the gang of street dogs, so used names that fit their roles – Boss, Scrounger, Digger, Bandit etc. Then I needed names for the palace dogs which needed to be popular names from 1665, the year the book is set in – and came up with Amelia, Grace & Chloe. Other characters were real; King Charles II & Samuel Pepys.
14) Can you give us an insight into your main character(s) life?, What makes them tick?
My main characters are 2 pampered King Charles Spaniels, who travel back in time to 1665 and find themselves in the midst of the Great Plague in London. They have to suddenly start to learn to fend for themselves, and I have tried to bring the personalities of each dog into the characters in the book. Trying to think like a dog is not always the easiest thing to do, but I had written from the dog's perspective before as I wrote one of my blogs as if Brinkley was writing it.
15) Which was your hardest scene to write?
Definitely the one where Amy, one of the women who attended to people who were sick from the plague, came home after tending to a young girl who died from the plague. I felt it was important to get the tone correct for children to read about how bad the plague was, but in an age appropriate manner.
16) How did you come up with the title of your book?
I wanted a title I could apply to a series of books, I always knew I wanted to write more than one, so I used the Time Travel aspect as the basis and came up with 'Through Time To…' The first book is Through Time to London, the second will be 'Through Time to Cheddar' and the 3rd Through Time to Hastings'.
17) Did you get a family member/friend to read your work before sending to the publishers?
I had 3 people reading each chapter as I wrote them, my older brother and 2 friends I trusted to be honest with me. I felt if they didn't enjoy the first few chapters there was probably no point me writing the rest. As it happens they were very encouraging. Once the book was complete, I then had 3 other people read it as a complete novel while I worked on the editing.
18) What process did you go through to get your book published?
I decided very early on that I had 2 options. I could spend the next 5 years trying to get an agent or publisher or I could self-publish it and get it out there. Due to my health scare I decided to self-publish it.
Once I had completed the book I took an online course on self-publishing, and another about using kdp and Createspace to have kindle and paperback versions on Amazon. I found a good printer for having short print runs done so I had a stock of paperbacks for book signings and book fayres, and then had to learn all about ISBNs, sending copies to the Legal Deposit with the British library etc. There is a lot to do once the book is written.
19) What did you do once you had written the final word in your book?
I think I went through to my partner and said something like, 'I can't quite believe it – but it finished.' Then probably had a glass of wine to celebrate.
20) What's next for you, writing-wise?
I'm working on the second book, I have the basic cover design done,(I don't do it myself, my artistic ability is zero, but I have a very skilled illustrator that does them for me), and have the first draft almost complete. Then I'll get it edited while it's out with Beta readers and hopefully publish it myself this summer. It's my birthday in June, so that's a nice time to work towards.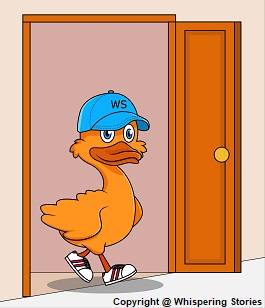 1) What's your favourite food?
Pasta, especially Macaroni Cheese – that's a real comfort food for me.
2) If you had a box of crayons and you could only choose one, which colour would you choose?
Yellow, such a sunshine colour – always cheers me up.
3) What movie could you watch over and over again?
Dirty Dancing, I have watched it so many times and always enjoy it.
4) What would be the top song on your playlist?
Probably Dignity, by Deacon Blue.
5) If you won millions, what would be your first purchase?
That's a tough one, probably a villa in Spain so I could go out there to write in the winter warmth. I lived in Spain for a couple of years and, while I was glad to return to the UK, it would be nice to have a place I could escape to and use as a writing sanctuary.
6) A talking duck walks into your room wearing a baseball cap and sunglasses, whats the first thing he says to you?
'Excuse me, have you seen my beach towel?'
You can find out more about Brindy Wilcox by visiting the website/social media sites below.
@BrindyWilcox
Facebook
Goodreads
I would like to say a big thank you to Brindy Wilcox for sharing with us details of her writing life, and for a wonderful interview.